Insurance Companies Compete Against Sovereign Funds for Institutional Real Estate
Posted on 01/30/2014
---
Growing in prevalence, global insurance giants like Munich-based Allianz SE are competing against sovereign funds on core properties. Historically, institutional real estate has been an important asset class for insurers. In 2013, Allianz had issues finding enough "good" deals in real estate.
The 9.1% increase in total deal amount reflects a growing appetite for real assets by sovereign wealth funds.
The mad rush toward real assets was prompted by central banks lowering rates, forcing institutional investors to crave yield in illiquid asset classes like real estate. The bidding conflicts over institutional real estate by sovereign funds, elephantine pension funds, real estate managers and other insurance companies are creating bubble-like conditions in certain markets.
Earlier in the 2000s, insurance companies used to compete for prime properties from real estate investors like the Kuwait Investment Authority, the Abu Dhabi Investment Authority and GIC RE. In some circumstances, insurance companies sold these properties to sovereign wealth funds, yielding nice profits. For example, in July 2008, Tishman Speyer Properties and Prudential Real Estate Investors (owned a German real estate entity, TMW) sold a 90% stake in the Chrysler Building to the Abu Dhabi Investment Council. More public investors are allocating to real estate.
Other sovereign funds and large pensions are either entering the direct property game, or increasing allocation like Norway's Government Pension Fund Global (GPFG), the China Investment Corporation, Korea's National Pension Service, CPPIB and China's State Administration of Foreign Exchange (through special vehicles). Norway's sovereign wealth fund has even found insurers as partners like Metlife.
Direct Sovereign Wealth Fund Transactions – Real Estate – Billions USD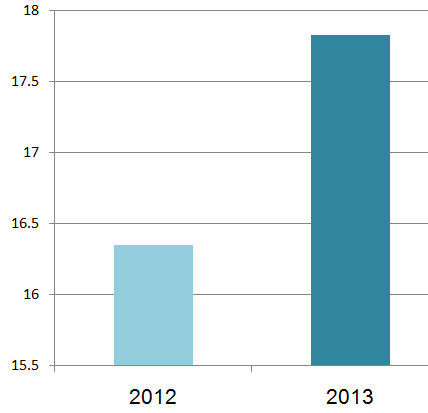 Source: Sovereign Wealth Fund Transaction Database, January 2014
The mega shift of sovereign wealth money toward real assets is having a profound effect in global real estate markets. Direct sovereign wealth fund transactions in real estate totaled US$ 16.35 billion in 2012 and increased to US$ 17.83 billion in 2013. The 9.1% increase in total deal amount reflects a growing appetite for real assets by sovereign wealth funds.
Keywords: Norway Government Pension Fund Global, GIC Private Limited, SAFE Investment Company, National Pension Service of Korea.