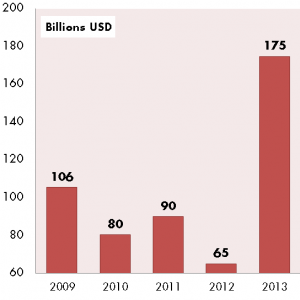 The Most Active Sovereign Wealth Fund Investors of 2013
Posted on 03/25/2014
---
Sovereign Wealth Fund Direct Transactions by Year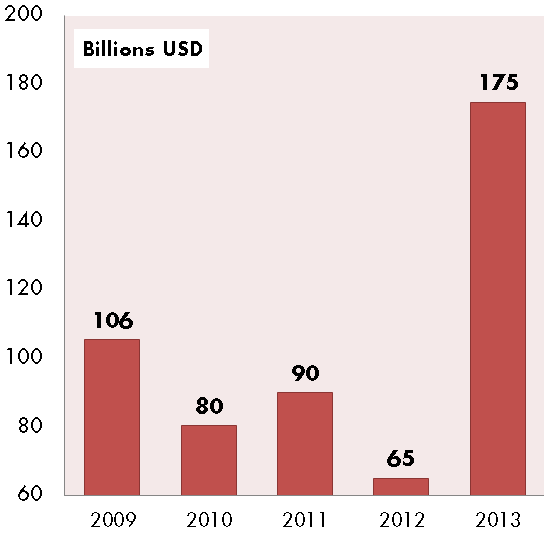 Source: Sovereign Wealth Fund Transaction Database – March 2014
2013 was a milestone year for sovereign wealth funds acquiring companies and assets. According to the Sovereign Wealth Fund Institute's proprietary transaction database, 2012 transactions amounted to US$ 65.09 billion, a drop from 2011's US$ 90.04 billion. 2013 has set a record of US$ 174.73 billion in direct sovereign wealth fund transactions. This rebound of direct transactions reflects sovereign funds' growth in assets, maturation of internal operations in the larger funds and improved confidence in the world economy.
The investment strategies of sovereign wealth funds has changed over the past eight years. Broadening direct investment tactics from acquiring manufacturing companies to farmland in Australia, fosters a growing role of sovereign funds as serious forms of long-term capital.
The majority of direct sovereign wealth fund investment activity flows from three key geographic areas: Asia, Gulf States and Northern Europe. Excluding Norway, the Asian sovereign wealth funds outmatched the Gulf-based sovereign funds on direct purchases in terms of total transaction amounts.
Who were the most active sovereign wealth funds in direct investing for 2013?
3. The Towers of Abu Dhabi
The Abu Dhabi Investment Authority's buying splurge of core assets in Europe and Australia has pushed up the level of direct investment activity in both observations and transaction amounts for the fund. In 2013, ADIA accelerated its hiring program, picking up experienced private equity and investment banking professionals from Europe. This has allowed the sovereign fund to seek out more direct deals.
In January 2013, ADIA bought 90 Boulevard Pasteur through LaSalle Investment Management from Credit Agricole for €250 million. Moving toward equities, ADIA has augmented participation in initial public offerings; one example is the Coupons.com IPO.
The Abu Dhabi Investment Council, the sister fund, extended investment activities into private equity, real estate and infrastructure. A prime instance is ADIC's involvement in the group that purchased the14-story Shiba Park Building in central Tokyo.
2. Singapore Twins
By analyzing transaction data, Singapore's Temasek Holdings and the renamed GIC Private Limited has seized many small to medium-sized stakes in businesses globally. Temasek Holdings has engaged in huge transactions like buying a 4.6% stake for €600 million in Evonik Industries AG, a German specialty chemical manufacturer. Temasek Holdings has rejigged its portfolio, favoring consumer-based companies over the past preference of financial institutions.
Flipping to the other side, GIC has triumphed over Temasek in the total dollar amounts of transactions and number of observations for 2013. The GIC has become emboldened in dealing with other private equity firms. The sovereign fund has partnered with private equity firms like Bain Capital on its takeover of BMC Software.
1. Norwegian Giant
Norway's Government Pension Fund Global (GPFG) wins the prize for being the most active sovereign wealth fund for 2013. Two reasons, first the sovereign fund has purchased over 5,000 equity transactions worth over a million in 2013. Second, the fund has taken an enhanced active approach when it comes to corporate governance and environmental standards. Like ADIA, the fund has partaken in more initial public offerings ranging from the infamous Formula One deal to the lofty Hong Kong IPO of China Cinda Asset Management Co., one of China's major bad debt managers. Besides the equity transactions, the Norwegian sovereign wealth fund has made its mark in institutional real estate. With a 5% target allocation to real estate, the largest sovereign wealth fund in the world inked deals with Metlife and Prologis – acquiring large portfolios of real estate assets.
Top 10 Sovereign Wealth Fund Direct Investors for 2013
| | Home Country | Sovereign Wealth Fund | # of 2013 Observations | Billions USD |
| --- | --- | --- | --- | --- |
| 1 | Norway | Norges Bank Investment Management | 5096 | 124.71 |
| 2 | Singapore | Temasek Holdings | 73 | 15.79 |
| 3 | Singapore | GIC Private Limited | 408 | 12.24 |
| 4 | UAE | Abu Dhabi Investment Authority | 329 | 7.93 |
| 5 | Kuwait | Kuwait Investment Authority | 156 | 6.36 |
| 6 | UAE | Abu Dhabi Investment Council | 5 | 3.97 |
| 7 | China | SAFE Investment Company | 16 | 2.96 |
| 8 | Qatar | Qatar Investment Authority | 13 | 2.65 |
| 9 | China | China Investment Corporation | 21 | 2.26 |
| 10 | Korea | Korea Investment Corporation | 458 | 1.98 |
Source: Sovereign Wealth Fund Transaction Database – March 2014