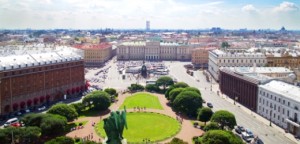 REBOUND: Foreign Institutional Investors Buy More of Moscow Exchange
Posted on 07/02/2014
---
The Central Bank of Russia is selling a stake of the Moscow Exchange to a consortium of institutional investors led by the Russian Direct Investment Fund (RDIF). The RDIF was a cornerstone investor in the Moscow Exchange's initial public offering back in February 2013.
Institutional Investors
These institutional investors include: Cartesian Capital, BlackRock, and the European Bank for Reconstruction and Development (EBRD). A few sovereign wealth funds joined in the deal as well such as the Kuwait Investment Authority and China Investment Corporation (CIC). Some of these investors were earlier investors in the exchange including BlackRock and the CIC.
In the press release, Kirill Dmitriev, CEO of RDIF commented, "We are delighted that RDIF managed to attract our partners as co-investors from China, Singapore, Qatar, UAE, USA, UK and Germany. As the basis of the financial infrastructure in Russia, we believe that the Moscow Exchange has considerable capitalization growth potential."