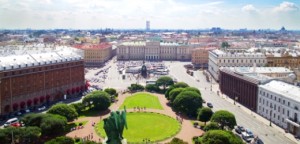 Russia's NWF to Provide Capital to VTB Bank and Rosselkhozbank
Posted on 08/28/2014
---
Western sanctions have negatively affected Russia's financial system. By denying Russian banks access to Western capital markets, Russia's large banks and companies have had to pursue other avenues for capital needs. The Russian government has approved injecting 239 billion roubles (US$ 6.6 billion) in two state-owned banks.
Both banks will issue preferred shares to Russia's National Welfare Fund (NWF). VTB Bank will receive 214 billion roubles, while Rosselkhozbank (Russian Agricultural Bank) will get 25 billion roubles. The VTB transaction is a bit different. The NWF will convert a 200 billion rouble sub-ordinated loan repaid by VTB into preferred shares.
The Russian government has 60.9% ownership of VTB and 100% ownership in Rosselkhozbank.
In addition, the Russian government is seeking whether to create a state-owned reinsurance company to lighten its dependence on foreign firms.