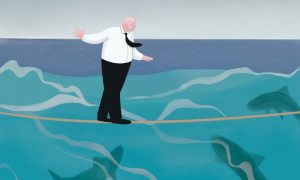 3 Lessons Learned by Public Pensions in 2014
Posted on 01/06/2015
---
Hedge Funds Are Not Bad and Should Not Track Broad Market Indices
For hedge funds, institutional investor enthusiasm has cooled, compared to pension fund interest in real assets such as infrastructure and properties. In 2014, the California Public Employees Retirement System (CalPERS) dumped its absolute returns program (also known as a hedge fund program). Other pension funds are looking to reduce hedge fund exposure. UK-based Railways Pension Scheme is seeking to reduce its £1 billion allocation to hedge funds. Hedge funds that failed to generate double digit returns in 2013 took a beating in pension investment committees. Hedge fund proponents contend that fund underperformance is consistent with the asset class having low beta and low correlation to equities. Hedge funds weren't designed to track the Russell 2000 or S&P 500 index.
Public pensions still have a long way to go when it comes to funding obligations.
You Can Sue Your Investment Consultant for Lousy Advice
Investment consulting giant Towers Watson is being sued for more than £47 million (US$ 72 million) from a mid-sized UK pension fund. The £8.7 pension fund, British Coal Staff Superannuation Scheme (BCSSS), filed the lawsuit in the United States. The suit alleges Towers Watson giving "negligent investment consulting advice" to the pension relating to a currency hedge. To be specific, the lawsuit is related to a currency hedge on a £250 million investment in a local currency emerging market debt fund managed by Bluebay Asset Management, which was made in August 2008. The advice was provided by Watson Wyatt, which merged with Towers Perrin to create Towers Watson in 2010. The loss was valued at £47.5 million by the pension fund from the period of August 2008 to October 2012. On September 4, 2014, trustees of the British Coal Staff Superannuation Scheme sent a demand letter to Towers Watson. According to SEC filings, Towers Watson plans to defend the matter vigorously.
Slow Asset Growth in U.S. Defined Benefit World
Despite hopeful gains on equity investments, U.S. pensions still are falling short of what they owe to future retirees. Public pensions still have a long way to go when it comes to funding obligations. U.S. Census Bureau's Quarterly Survey of Public Pensions came out with a third quarter report finding pension assets fell 1.8% to US$ 3.3 trillion (September 30, 2014) from US$ 3.37 trillion as of June 30. However, these pension assets are up 8% from September 30, 2013. The survey represents 100 public pensions and 88.4% of all U.S. public pension assets.