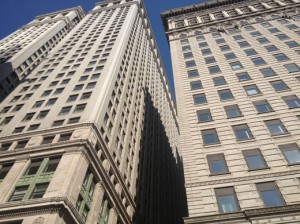 17 Great Investor Quotes
Posted on 02/09/2015
---
Institutional investors constantly face countless choices when it comes to allocating capital. Below are 17 insightful and interesting quotes from investment gurus selected by SWFI staff.
"While it might seem that anyone can be a value investor, the essential characteristics of this type of investor-patience, discipline, and risk aversion-may well be genetically determined."
– Seth Klarman, Founder of Baupost Group
"The underlying principles of sound investment should not alter from decade to decade, but the application of these principles must be adapted to significant changes in the financial mechanisms and climate."
– Benjamin Graham, "Regarded as the Father of Value Investing"
"I will tell you how to become rich. Close the doors. Be fearful when others are greedy. Be greedy when others are fearful."
– Warren Buffett, Chairman and CEO of Berkshire Hathaway Inc.
"You adapt, evolve, compete or die."
– Paul Tudor Jones II, Founder of Tudor Investment Corporation
"Bottoms in the investment world don't end with four-year lows; they end with 10- or 15-year lows."
– Jim Rogers
"If investing is entertaining, if you're having fun, you're probably not making any money. Good investing is boring."
– George Soros
"Be wary of the arrogant intellectual who comments from the stands without having played on the field."
– Ray Dalio, Founder of Bridgewater Associates
"The four most dangerous words in investing are: 'this time it's different.'"
– Sir John Marks Templeton
"I've lived through periods of illiquidity before. Asset prices come down. The economy slows or even goes into recession. Then the cycle re-starts. We buy at lower prices with less leverage."
– Stephen A. Schwarzman, Chairman and CEO of the Blackstone Group
"In investing, what is comfortable is rarely profitable."
– Robert Arnott, Founder and Chairman of Research Affiliates
"If you don't study any companies, you have the same success buying stocks as you do in a poker game if you bet without looking at your cards."
– Peter Lynch, Former Manager at Magellan Fund at Fidelity Investments
"The bottom line of all of the above is that generous credit markets usually are associated with elevated asset prices and subsequent losses, while credit crunches produce bargain-basement prices and great profit opportunities."
– Howard Marks, Chairman of Oaktree Capital Management, Inc.
"Bond investors want growth much like equity investors, and to the extent that too much austerity leads to recession or stagnation then credit spreads widen out – even if a country can print its own currency and write its own cheques."
– William Hunt "Bill" Gross, Co-Founder of PIMCO
"Persist – don't take no for an answer. If you're happy to sit at your desk and not take any risk, you'll be sitting at your desk for the next 20 years."
– David Rubenstein, Co-Founder and Co-CEO of The Carlyle Group
"The stock market is filled with individuals who know the price of everything, but the value of nothing."
– Philip Arthur Fisher, Founder of Fisher & Co.
"If you want time to pass quickly, just give a banker your note for 90 days."
– J.P. Morgan
"If you have trouble imagining a 20% loss in the stock market, you shouldn't be in stocks."
– John Clifton "Jack" Bogle, Founder and Former CEO of The Vanguard Group