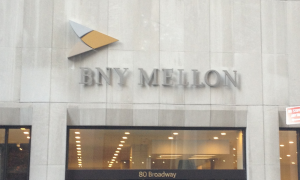 BNY Mellon Hires Michelle Neal to Lead Markets Group
Posted on 09/01/2015
---
In 2014, BNY Mellon combined its global collateral services, global markets and prime services units into the BNY Mellon Markets Group. BNY Mellon has hired Michelle Neal as president to lead that group.
Neal will begin her new role on November 30, 2015. She is replacing Kurt D. Woetzel and will report to Curtis Arledge, the company's vice chairman and CEO of investment management. Woetzel retired earlier this summer. Neal is coming from Deutsche Bank where she was managing director, global head of listed derivatives, markets clearing and fixed-income market structure. Neal also had roles at Nomura International, Royal Bank of Scotland, Fidessa LatentZero and Goldman Sachs.
Keywords: Bank of New York Mellon Corporation.