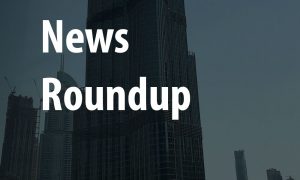 Friday SWFI News Roundup, June 3, 2016
Posted on 06/03/2016
---
Khazanah Had Secondary Share Sell on IHH Stock
Malaysia's Khazanah Nasional sold 829 million MYR (US$ 201 million) worth of shares (1.6% stake) from a secondary sale of shares in IHH Healthcare, the hospital operator. Khazanah's ownership after the secondary sale was reduced to 42.8%. Before the sale, Khazanah owned 45.3% of IHH. IHH is dual listed on the Singapore Exchange and Bursa Malaysia. Other large shareholders in IHH include Mitsui & Co. at 20% in IHH and Malaysia's Employees' Provident Fund (EPF) at 8.4% ownership in IHH. Deutsche Bank and CIMB were joint bookrunners on the secondary share sale.
NantHealth has its IPO
NantHealth had its initial public offering (IPO) on June 2, 2016, opening on the NASDAQ. NantHealth was backed by many large investors before the IPO such as the Kuwait Investment Office, part of the Kuwait Investment Authority (KIA). NantHealth offered 6.5 million shares of common stock at US$ 14. At the close of Thursday, shares of NantHealth rose to US$ 21 per share.
NZSF Reduces Z Energy Ownership Stake to 1.5%
The New Zealand Superannuation Fund (NZSF) sold 36.4 million shares in Z Energy in an underwritten block trade. The price achieved was NZ$ 8.01 per share. NZSF plans to remain a shareholder in Z Energy, with a residual holding of approximately 5.8 million shares within its listed New Zealand equity portfolio. These shares will be managed by NZSF's internal team, along with external managers Devon Funds Management and Mint Asset Management.
In 2010, NZSF invested NZ$ 209.8 million alongside Infratil in buying Z Energy. NZSF has now received NZ$ 1,094 million in proceeds from the investment while the value of the Fund's remaining 1.5% stake is NZ$ 47 million (at the block trade sale price). The transaction was completed via a fully underwritten block trade by UBS Group AG.
New Mexico PERA Commits to DRC Capital Debt Fund
The Public Employees Retirement Association of New Mexico committed US$ 75 million to DRC Capital European Real Estate Debt Fund III. The debt fund will focus on Western Europe, primarily the U.K. and Germany and possibly Poland.
Korea Post Gets Stake in Manhattan Building
CBRE Global Investors acquired a 47% interest in a Manhattan office and retail asset for Korea Post for US$ 561 million. The 477,143 square foot building is at 7 W 34th Street office. The seller was Vornado Realty Trust, which holds the remaining 53%. In 2015, CBRE Global Investors acquired Midtown I and II office buildings in Atlanta for Korea Post.
CalSTRS' Recent RE Transactions
The California State Teachers' Retirement System (CalSTRS) made a €100 million allocation to Blackstone Real Estate Partners Europe V. In addition, CalSTRS made a US$ 250 million commitment to a new joint venture with Beacon Capital Partners known as BCal will be used to invest in U.S. offices. CalSTRS will control 95% of the joint venture, with 5% being held by Beacon Capital Partners. CalSTRS also embarked on a US$ 200 million investment into Belay Investment Group's Partnership Ventures II fund, giving it a 40% stake in the fund. CalSTRS made two separate account acquisitions, one was in Los Angeles. Lastly, CalSTRS added US$ 50 million to an existing JV with Principal Real Estate Investors.
Keywords: California State Teachers Retirement System, Malaysia Employees Provident Fund (KWSP).