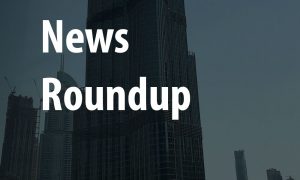 Friday SWFI News Roundup, November 11, 2016
Posted on 11/11/2016
---
BNY Mellon Selects Singapore for its 8th Innovation Center
BNY Mellon has opened its eighth Innovation Center, selecting Singapore. The custodial giant named it the Singapore Innovation Center. "The opening of our eighth Innovation Center in Asia is a reflection of the region's rapidly developing innovative technology and fintech landscape, as well as the increasing importance of Asia to BNY Mellon's business. As our largest branch office in Asia Pacific, the Singapore Innovation Center reinforces BNY Mellon's commitment to the region's advancement in transformational technology in financial services and compliments the Monetary Authority of Singapore's continuing ambition to establish a vibrant innovation ecosystem and to develop the city as a Smart Financial Center," commented Stephen Lackey, Chairman of Asia Pacific for BNY Mellon, in a press release.
Lieve Mostrey Named New CEO of Euroclear
Tim Howell is stepping down as CEO of Euroclear. He has held the chief executive role for six years. Lieve Mostrey is being promoted to CEO of Euroclear, effective January 1, 2017. She joined Euroclear in October 2010. She has held a number of roles at Euroclear including executive director and chief technology & services officer.
Robbins Geller Rudman & Dowd LLP Files Class Action Suit Against The Allstate Corporation
Law firm Robbins Geller Rudman & Dowd LLP, on November 10th, announced that they filed a class action against The Allstate Corporation on behalf of an institutional investor. The lawsuit relates to Allstate common stock purchased between October 30, 2014 and August 3, 2015 and alleged misstatements. This action was filed in the Northern District of Illinois and is captioned City of St. Clair Shores Police and Fire Retirement System v. The Allstate Corporation, et al., No. 16-cv-10510.
Erik van de Brake Takes Infrastructure Reins at PGGM
Erik van de Brake is the new Head of Infrastructure at PGGM. He replaces Frank Roeters van Lennep who moved onto Chief Investment Officer of Private Markets at PGGM. Erik van de Brake will oversee 22 staff members and be a steward for €7.5 billion in assets.
ADIA Decides to Keep Saltire Court, Pulls Off Market
The Abu Dhabi Investment Authority (ADIA) has taken its office asset in Edinburgh, Scotland off the market. The property is Saltire Court. The reasoning is that offers fell short of its £69 million asking price.
LGIMA Names Aaron Meder as CEO
Legal & General Investment Management America (LGIMA) named Aaron Meder as its new chief executive officer. Meder was the Head of Investment at London-based Legal & General Investment Management. He joined LGIMA as head of U.S. pension solutions in 2010. Replacing Meder in his old role is Anton Eser, currently Co-Head of Legal & General Investment Management's global fixed income business.
Keywords: Bank of New York Mellon Corporation, Euroclear Bank.