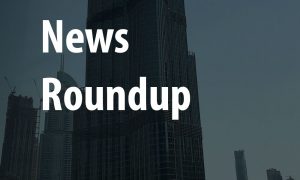 Friday SWFI News Roundup, November 18, 2016
Posted on 11/18/2016
---
Anbang Insurance Group Bids for 777 Bay Street
China-based Anbang Insurance Group Co. is nearing a deal to acquire an office and retail tower at 777 Bay Street in downtown Toronto. The sellers of the 30-storey building are Montreal-based Canderel and OPTrust, each holding a 50% ownership interest in 777 Bay Street. The sales price is allegedly C$ 530 million.
New York City Employees' Retirement System Names Karen Mazza as Interim ED
The New York City Employees' Retirement System named Karen Mazza as interim executive director.
Macquarie Capital Forms RE Platform with China Jinmao Holdings
Macquarie Capital is partnering with China Jinmao Holdings Group Limited, a subsidiary of state-owned Sinochem Corporation, to form a real estate platform called JM Capital Limited.
Doris Ho is Named ED of Hospital Authority Provident Fund Scheme
The Hospital Authority Provident Fund Scheme, based in Hong Kong, appoints Doris Ho to replace Heman Wong as executive director.
Sigfox Raises Series E Round
France-based Sigfox, an internet-of-things startup, raised €150 million in Series E funding from new investors such as Salesforce, Total, entrepreneur and Parrot founder Henri Seydoux, Alto Invest, Swen CP, and Tamer Group. Existing investors Bpifrance, Elliott, Intel Capital, Air Liquide, Idinvest Partners, and IXO also participated. Sigfox was advised by Lazard and Goldman Sachs. The legal advisor for Sigfox was Skadden. The financial advisor to Sigfox management was Callisto.
Knowlton Development Corporation Acquires Thibiant International
Knowlton Development Corporation, a contract manufacturer of health and beauty-care products with its head office in Longueuil, Quebec, announced the acquisition of California-based Thibiant International, Inc. This transaction comes in the wake of a series of acquisitions carried out in 2014 and 2015, and which were made possible by its parent company, NOVACAP, through its Novacap Industries IV Fund, with the support of the Caisse de dépôt et placement du Québec (CDPQ), the Fonds de solidarité FTQ, Investissement-Québec, Export Development Canada (EDC), Fondaction CSN and other institutional partners.
Keywords: New York City Employees Retirement System, Caisse de depot et placement du Quebec.