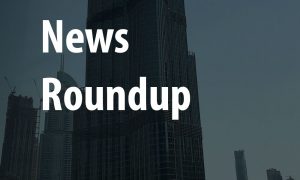 Friday SWFI News Roundup, December 2, 2016
Posted on 12/02/2016
---
Jo Taylor Promoted to Senior Managing Director, International
Bjarne Graven Larsen, Chief Investment Officer, Ontario Teachers' Pension Plan (OTPP), announced that Jo Taylor has been promoted into the new role of Senior Managing Director, International, effective January 1, 2017. Taylor joined OTPP in 2012 and is Regional Managing Director, Europe, Middle East and Africa and is located in the London office.
OCERS CIO to Resign in January 2017
Girard Miller, the Chief Investment Officer of the Orange County Employees Retirement System (OCERS), is resigning. This is effective, January 5, 2017. The pension is putting on a search for a CIO in January.
Brexit Minister Hints at Paying for Access, Sterling Rockets
On December 1, 2016, the British pound sterling surged to a 3-month high against the euro after David Davis, the Brexit minister, said the country would consider making payments to the European Union (EU) budget in exchange for access to EU markets.
Agustín Carstens Plans to Exit Central Bank for BIS Role
Agustín Carstens, the Governor of the Central Bank of Mexico, is leaving his post in July 2017 to lead the Basel, Switzerland-based Bank for International Settlements (BIS) in October 2017. This is a 5-year term at BIS as General Manager. He will succeed Jaime Caruana at BIS. The 86-year-old BIS is known as the central bank of central banks.
Agustín Carstens ranked #11 out of 100 on the Public Investor 100 for 2016.
Private Credit Trend: Allianz Global Investors Buys Sound Harbor Partners
Allianz Global Investors is purchasing New York-based Sound Harbor Partners, a private credit manager led by Michael Zupon and Dean Criares. Zupon is a former Partner at The Carlyle Group where he founded and led the leveraged finance business. Criares is a former Partner of The Blackstone Group where he founded and led the loan management business. The transaction is expected to close in the first quarter of 2017. Berkshire Capital Securities LLC served as M&A advisor, Kaye Scholer LLP served as legal advisor to Sound Harbor and Sullivan & Cromwell served as legal advisor to Allianz Global Investors.
Invitation Homes Secretly Files IPO
Dallas-based Invitation Homes LP, owned by The Blackstone Group, confidentiality filed for an initial public offering. Invitation Homes oversees the largest pool of rental homes in the United States. Deutsche Bank and JPMorgan are leading the IPO effort.
Keywords: Ontario Teachers Pension Plan.