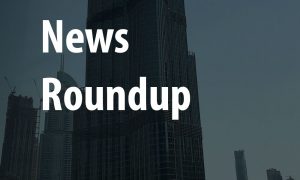 Friday SWFI News Roundup, December 30, 2016
Posted on 12/30/2016
---
BIG DEAL: RBI Approves Fairfax Financial's Bid to Buy Domestic Indian Bank
The Reserve Bank of India (RBI) approved Canadian billionaire Prem Watsa's Fairfax Financial Holdings Ltd. 's bid to acquire a 51% ownership stake in Thrissur, Kerala-based Catholic Syrian Bank Ltd. This is a milestone deal because this is the first time the RBI allowed an overseas investor to acquire a majority stake in a domestic bank. Catholic Syrian Bank was founded in November 1920. At the end of March 2016, Catholic Syrian Bank had 156.5 billion INR in assets.
Hans Tietmeyer Dies at Age of 85
Hans Tietmeyer was the head of Germany's Bundesbank from October 1993 to 1999, known as the "high priest of the D-Mark". He was the last president of the central bank presiding under the Deutsche Mark before the move to the euro currency. Tietmeyer had joined Bundesbank in 1990. Tietmeyer passed at the age of 85 on December 27, 2016.
Malaysian Technology Development Corporation Invests in New Shares of Green & Smart Holdings
On December 20, 2016, Green & Smart Holdings plc, a renewable energy company generating power from biogas captured through the treatment of Palm Oil Mill Effluent (POME) in Malaysia, has raised about 6 million MYR (£1.14 million) through the issue of new ordinary shares, totaling 10,761,367 shares, to Malaysian Technology Development Corporation Sdn Bhd. Malaysian Technology Development Corporation is a sovereign wealth enterprise (SWE) of Khazanah Nasional and is in charge of promoting the adoption of technologies by local companies via commercialization of research & development or acquisition of foreign technologies. The new shares were issued at an effective price per share equivalent to approximately 10.62 pence. Following admission, Malaysian Technology Development Corporation will hold 19,476,367 shares in Green & Smart Holdings, amounting to 6.78% of the enlarged issued share capital of Green & Smart Holdings.
Qatar Airways Bags 10% Stake in LATAM Airlines Group
Qatar Airways, through its subsidiary Qatar Airways Investments (UK) Ltd, acquired a 10% ownership stake in Santiago, Chile-based LATAM Airlines Group S.A., a Latin America airlines company. Qatar Airways picked up 60,837,452 shares in LATAM Airlines. In addition, the preemptive rights offering of 61,316,424 new LATAM shares, at a price per share of US$ 10, ceased on December 23, 2016, in which Qatar Airways subscribed shares of LATAM in its capacity as assignee of the preemptive right assigned by the shareholders of the Cueto, Amaro, Eblen and Bethia Groups to Qatar Airways, as agreed between LATAM and Qatar Airways, and other minority shareholders subscribed 12,140 shares of LATAM. Later, on December 28, 2016, Qatar Airways subscribed 30,349,907 shares not subscribed by the shareholders during the preemptive rights period.
GIC Buys 50% Stake in Watermark Complex
Singapore's GIC Private Limited purchased a 50% stake in the newly-operational Watermark leisure complex in Southampton, for £48.5 million. The seller of the 50% stake was London-based Hammerson plc. The development is currently 95% leased. The complex is part of the Westquay shopping centre complex. Southampton is a port city on England's south coast.
GLP Set to Construct the Largest Modern Logistics Park in Japan
Singapore-based Global Logistic Properties (GLP), which touts GIC as its biggest shareowner, is set to construct the largest modern logistics park in Japan. Located in metropolitan Tokyo, the project is dubbed GLP Sagamihara and will have more than 7 million square feet of total gross floor area spread across six buildings. Construction is set for the year 2020 and the total investment cost for GLP Sagamihara is estimated at 133 billion JPY (US$ 1.1 billion).