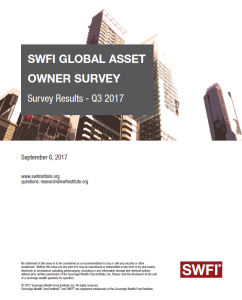 SWFI Global Asset Owner Survey Discovers Investors View US Tax Reform as Driver for Equities
Posted on 09/06/2017
---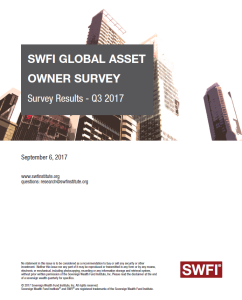 According to the SWFI Global Asset Owner Survey taken in August 2017, institutional investors are looking to overweight in international and global equities, while pulling back in listed infrastructure and U.S. passive fixed income. The quarterly survey targets sovereign funds, pensions, endowments, superannuation funds, foundations, government funds, family offices and other asset owners. Totaled estimated survey sample size was US$ 1.012 trillion of assets under management. The clear majority of respondents have a long-term orientation.
Download at SWFI.com under REPORTS, SURVEY.
Here are some key findings:
U.S. tax reform is to be the largest driver of equity prices in the next 6 months. The price of oil was second.

A majority of respondents plan to increase allocation to Europe, ex-UK in the next 12 months.

30.77% of the respondents plan to decrease allocation to credit strategies in the next 12 months.

A majority of respondents see geopolitical risk as the greatest factor against financial market stability.

Long High-Quality Equities appears to be the most crowded trade for now.

About 27% of the respondents plan to increase allocation to emerging market debt in the next 12 months.
"Pensions and sovereign funds see U.S. tax reform as a major boon for equity prices," says Michael Maduell, President of SWFI.
He adds, "Geopolitical risks in the Middle East and parts of Asia, including North Korea, remain in the psyche of global asset owners. According to the survey results and SWFI data, sovereign funds and long-term asset owners are cherry picking investment opportunities in Europe, ex-UK."
More About the Global Asset Owner Survey
This is SWFI's inaugural quarterly survey for asset owners. To participate in the next quarterly survey, CONTACT research(a)swfinstitute.org.
SWFI intentionally excludes 3rd party asset and fund managers in this survey. As an independent authority on asset owners, SWFI feels that it is uniquely qualified and strategy agnostic to show a true "lay of the land".