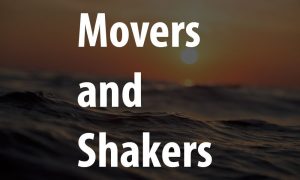 SWFI – Movers and Shakers – November 10, 2017
Posted on 11/10/2017
---
BlueMountain Capital Management Hires Former Pine River PM
BlueMountain Capital Management hired Albert Selius as a portfolio manager in insurance-linked securities. This is a new position. Before this role, Selius was at Pine River Capital Management, working as a portfolio manager in insurance-linked securities.
Amundi Hires Northern Trust Veteran for Middle East Business
Amundi hired Kais Abbas to be director of institutional clients in the Middle East. Previously, he was Senior Vice President and Head of Business Development, Middle East, working from them for over 5 years. Abbas also had a stint at Robeco Asset Management in Bahrain.
Charlotte Baenninger Promoted to Head of Fixed Income at UBS Asset Management
Charlotte Baenninger has been promoted to Head of Fixed Income at UBS Asset Management, taking over from John Dugenske. Dugenske left for Allstate Corporation in early 2017. Baenninger has been with UBS since 1997, last serving as head of fixed income Switzerland and Central Europe, Middle East and Africa.
Vickram David Takes More Responsibilty at Kingdon Capital
Kingdon Capital Management named Vickram David as President. This is a new position. David will also retain his duties as head of strategy and investor relations at the firm. David reports to Mark Kingdon, the founder, managing partner and CEO of the hedge fund. Before Kingdon, David was Head of Marketing at SRS Investment Management, LLC.
Neuberger Berman Breton Hill Hires Head of Investment Solutions
Ram Ramaswamy joined Neuberger Berman Breton Hill as head of investment solutions. Before taking this job, he spent 16 years at Goldman Sachs Asset Management in the Alternative Investments and Manager Selection group. He has an MBA from The Wharton School. Ram Ramaswamy will be based in Toronto.
BNY Mellon Hires Two Chinese Executives
BNY Mellon Investment Management hired Lydia Wu as institutional sales director of China. In addition, Gigi Wang joined BNY Mellon as business development manager of China – being based in Shanghai. These are both new positions. Wu and Wang will report to Jessie Zhang, the company's head of institutional distribution, Greater China and Southeast Asia. Lydia Wu was previously at State Street Global Advisors, serving as vice president of China business development.
Wang is coming from Bosera Asset Management, where she served as institutional business development director.