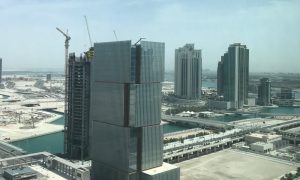 The Month That Was – Equities off to a flying start in 2019
Posted on 02/14/2019
---
This content is by Marmore Mena Intelligence.
GCC equity markets greeted its investors in celebratory fashion, recording its highest monthly gains in over two years. Investor sentiment was bullish, as the influx of foreign funds, uptick in oil prices and expansionary budget policies are all expected to support corporate earnings growth in 2019. The story was no different in the global markets, as equities continued to be the flavour of the month among investors. The U.S. and Emerging Markets witnessed a reversal in fortunes, putting the misery of 2018 behind them. A recovery in oil prices was also underway, as U.S and China take steps to resolve the trade dispute while Saudi Arabia affirms its commitment to avoid a supply glut.
We see the following three issues as key developments during the month of January:
GCC State Budgets 2019 – Still in expansionary mode: Indications from GCC countries largely seem to suggest that they are gearing up for another year characterized by spending to revive economic growth. Development of non-oil sectors continues to be the common theme among GCC budgets, as GCC economies remain upbeat regarding revenue inflows, with oil prices projected to increase in 2019.
View the full briefing at Marmore Mena Intelligence.