2019: Into Kazakhstan
Posted on 03/29/2019
---
This briefing is a joint publication between the Sovereign Wealth Fund Institute (SWFI) and Samruk Kazyna Research Team.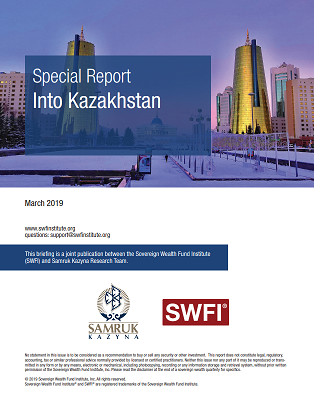 Kazakhstan's economy remains resilient, gradually adapting to the "new normal" global environment. Taking a cue from the economic recovery in 2017, the country's GDP growth expanded 4.1% in 2018, mainly attributed to (1) higher oil production driven by Kashagan, (2) commodity markets rebalance on the back of growing global demand and stockpiles drawdown, (3) continued infrastructure development, producing a multiplier effect on the economy, and (4) positive growth among Kazakhstan's key trading partners, facilitating trade and investment flows.
Samruk-Kazyna
Sovereign Wealth Fund Samruk-Kazyna Joint Stock Company is the Fund, where the sole shareholder is the Government of the Republic of Kazakhstan. Following the Presidential Decree in 2008, the Fund was established as a business corporation – an investment holding, whose Mission is to improve the national welfare of the Republic of Kazakhstan and to support the modernization of the national economy.