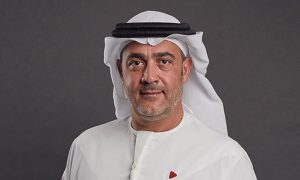 Al Hilal Bank Names New Chairman, Steps Toward Merger
Posted on 04/22/2019
---
Photo Credit: ADCB
Al Hilal Bank is owned by the Abu Dhabi Investment Council (ADIC). ADIC is now under the umbrella of the Mubadala Investment Company. Ala'a Mohamed Atta Khalil Eraiqat was appointed as Al Hilal Bank's chairman. Ala'a Eraiqat is currently Group CEO of Abu Dhabi Commercial Bank PJSC (ADCB). Eraiqat will serve as chairman at Al Hilal in addition to his current role at ADCB. Eraiqat started at ADCB in January 2004 and became CEO by February 2009.
ADCB is expected to merge with Al Hilal Bank and Union National Bank (UNB) in the first half of 2019.
In 2018, Amr Saad Al Menhali was named CEO of Al Hilal Bank.