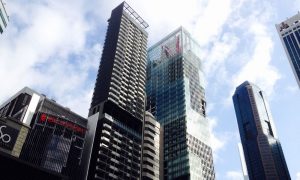 Temasek Had a Rough Year as Concentrated Bets Take Toll
Posted on 07/09/2019
---
Singapore's Temasek Holdings had a challenging fiscal year 2018-2019 compounded by trade tensions between the United States and China and a troubled life sciences portfolio. Temasek, which is wholly-owned by the Singapore government, generated a one-year total shareholder return of 1.49% for the period ended March 31, 2019.
"We remain watchful around the risks of a late cycle recession in the US. Brexit and political fragmentation continue to weigh on Europe, while China has yet to move fully to restructure its economy for longer term sustainability," according to Temasek Chairman Lim Boon Heng in the company annual review.
Temasek has prospered in real estate investing in examples such as Mapletree Investments and its Ascendas-Singbridge platform, while Temasek has encountered headaches with its large shipping/transport companies in Keppel Corporation and Semcorp Industries. Sembcorp Industries is an energy, marine and urban development group, operating across multiple markets worldwide. The global trade war and shifts in buying practices have greatly impacted Keppel Corporation, which Temasek has a 20% shareholding. In the recent fiscal year, Temasek boosted its allocation to real estate and consumer sectors, and also increased its net debt from S$ 51.9 billion in March 2019 from S$ 9.0 billion in 2014.
Temasek's troubled portfolio investments are also in life sciences. Temasek made a major investment in Bayer AG, only to find out that a groundbreaking U.S. court case regarding the glyphosate-based weed killer Roundup from Bayer's merger with Monsanto, had negatively impacted its concentrated investment giving a total shareholder return of 1 year at -34.7%. In addition, Temasek's investments in biopharmaceutical company Celltrion, Inc, where it holds a 10% stake, generated a total shareholder return of -40.4%. Temasek sold off its investment in Gilead Sciences.
The other risks in Temasek's large portfolio include its holdings in Chinese banks, such as China Construction Bank Corporation and Industrial and Commercial Bank of China Limited, and to an extent, Standard Chartered Plc, which remains heavily exposed to emerging markets. On the bright side, Temasek's holdings in AIA Group Limited and other non-bank assets have prospered in the global trade war as insurance needs for a rising middle class are needed.
Note: Updated for clarification – July 10, 2019.