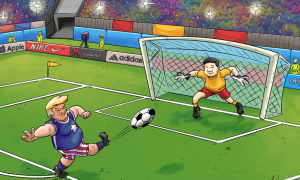 Tariff Delay on Popular Goods Gives China More Breathing Room
Posted on 08/15/2019
---
The on-again off-again trade dispute with China continues to dominate the headlines, with word now coming that some tariffs will not take effect until December 15, 2019, which essentially leaves the holiday season intact. In early August, U.S. President Trump delayed some of the tariffs on select industries such as mobile phones, laptops, and other consumer goods. The U.S. tariffs are set to impact US$ 300 billion in Chinese goods. The 10% tariffs on the US$ 300 billion worth of goods (minus the removed industries), will take effect on September 1, 2019. China retaliated by walking away from U.S. agriculture deals and told its state-owned enterprises to hold off on buying U.S. agricultural products. The crisis exploded when China was officially named a currency manipulator by the U.S. China is accused of weakening its currency by intervening in currency markets and buying U.S. dollars. The dollar, then, became more expensive. With a cheaper local currency, China could enjoy a boost in exports. The U.S. considers this "an unfair competitive advantage in international trade."
The U.S. had already named China a currency manipulator from 1992 to 1994. Labeling China doesn't necessarily have any negative impact in and of itself. It does provide an opportunity to act unilaterally to even the score. If the situation is not reversed, most Chinese goods will be affected by the 10% tariff before 2019 is out. White House economic adviser Larry Kudlow has pointed out that the U.S. government is eager to make a deal, and to resolve the trade differences by negotiation, instead of relying on tariffs.
"In recent days, China has taken concrete steps to devalue its currency, while maintaining substantial foreign exchange reserves despite active use of such tools in the past," a U.S. Treasury statement said. "The context of these actions and the implausibility of China's market stability rationale confirm that the purpose of China's currency devaluation is to gain an unfair competitive advantage in international trade."
Last, the trade issue with China is being magnified with the rampant political unrest in Hong Kong.