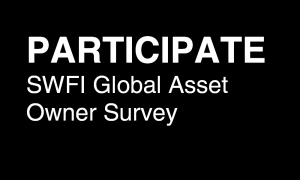 Global Asset Owner Survey – August 2019
Posted on 08/16/2019
---
SWFI polls asset owners such as sovereign wealth funds, pensions, endowments, and other end-investors (not money managers). The quarterly SWFI Global Asset Owner Survey gives a sample of the pulse of these global asset owners. These asset owners saw the biggest tail risk as trade wars and increased protectionism since March 2018, only to have the vote intensify each quarter.
If you are an asset owner such as a sovereign wealth fund, pension, endowment and are involved in the investment process, please reach out to research(a)swfinstitute.org to fill out the quarterly survey.
Respondents will receive the aggregated results.