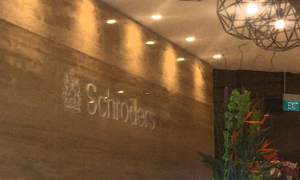 Leadership Changes at Schroders Investment Unit
Posted on 09/05/2019
---
Armed with 4,000 employees on six continents, global investment manager Schroders plc announced several senior management changes, calibrating roles across its investment business. The British multinational asset management company claims the reshuffle will bring together central oversight for closer alignment of investment management and performance, as well as product development. As at June 30, 2019 assets under management at Schroders stood at £444.4 billion.
Embracing ESG Wave
Charles Prideaux has been promoted to the newly-created role of global head of investment. Along with the environmental, social, and governance (ESG), team and the Data Insights Unit. Prideaux will now be responsible for Schroders' investment platform and will lead the effort to build ESG, capabilities across the business. Prideaux joined Schroders in October 2017. Prior to joining Schroders, he held senior roles at BlackRock including Head of the EMEA Institutional Client Business and most recently as Head of the European Active Investment Platform. As SWFI recently reported the firms ESG push is already well underway. In July, Schroders acquired a majority stake in Zurich-based impact investor BlueOrchard, an impact investment manager that gained ground with institutional investors.
Hong Kong Change
Hong Kong-based Lieven Debruyne, who has been leading business strategy in Asia-Pacific over the past 14 years, will be global head of distribution. Debruyne will continue as CEO of Asia-Pacific until a successor is appointed, at which time he will relocate from Hong Kong to London.
New Group CIO
Johanna Kyrklund has been appointed Group Chief Investment Officer (CIO). In her new role, she will also have oversight of the firm's investment performance, philosophy, and investment process. Kyrkuland is a board member of the Railpen Investments Board (since January 2019) and board member of Cambridge University Investment Board (since November 2015). Kyrkuland has been Head of Multi-Asset Investments at Schroders since March 2007.
Joining Schroders from Lombard Odier Investment Managers, Carolina Minio Paluello becomes Global Head of Product, Solutions & Quant. She will be responsible for product, solutions and quant investment capabilities, a remit which also encompasses product strategy, development, governance and marketing.
Charles Prideaux, Carolina Minio-Paluello, and Johanna Kyrklund will work in partnership across Schroders' investment desks with a focus on investment performance.
Troiano to Exit
After 38 years with the firm, John Troiano, global head of distribution, is retiring and will leave the firm at the end of the year to ensure that his responsibilities are transferred smoothly. Troiano began his career at Schroders as a graduate in 1981.
Keywords: RPMI Railpen, University of Cambridge Endowment.