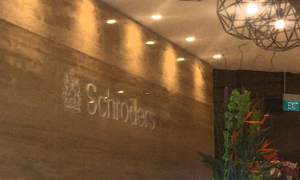 Schroders Appoints Head of Sustainable Credit with German Asset Manager Background
Posted on 09/22/2019
---
Like many European asset managers, global investment firm Schroders is expanding its sustainable investment capabilities with the appointment of a Head of Sustainable Credit. Increasing, institutional investors are analyzing the social and environmental externalities that can result in tangible financial costs. Saida Eggerstedt will also assume the role of Sustainable Credit Fund Manager and work in partnership with Schroders' Sustainability team, led by Jessica Ground, Schroders' Global Head of Stewardship.
Experienced in German Financial Managers
In the new role, Eggerstedt will report into Patrick Vogel, the Head of Credit in Europe at Schroders. Based in Frankfurt, Eggerstedt has over a decade of experience managing sustainable credit strategies for institutions and intermediaries. Most recently, she was Head of Corporates, Financials, at Deka Investment GmbH, which is part of the Deka Group in Germany. Prior to Deka, she managed credit portfolios, including sustainable strategies at Standard Life Investments. Saida Eggerstedt has also been the Head of High Yield at Union Investment.
"We have been integrating ESG into our investment processes for twenty years, viewing it as an essential to securing long-term, sustainable returns in a continually changing investment environment for our clients," said Jessica Ground, Global Head of Stewardship, Schroders.
"Saida's arrival will ensure Schroders' ability to deliver the very best in ESG credit investment solutions for clients is further bolstered," added Ground.
At June 30, 2019, Schroders managed £78.1 billion in fixed income strategies on behalf of its clients globally, representing almost a fifth of the firm's total assets under management.
Blue Orchard
The investment manager has increased its commitment in the areas of sustainable and impact investing and announced an agreement with Switzerland's BlueOrchard under which Schroders acquired a majority stake in the Geneva-based impact investor. Founded in 2001, BlueOrchard is a pioneer in microfinance and impact investing, and claims to be the world's first commercial manager of microfinance debt investments. As of May 30, 2019, it had about US$ 3.5 billion in assets under management.
In May 2019, Schroders launched SustainEX, its proprietary investment tool designed to quantify social and environmental impacts across individual companies, industries and geographies.