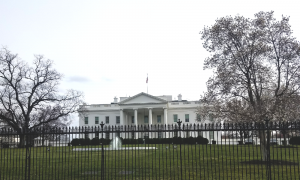 CORRECTION: American Financial News Outlets Report White House Contemplates Blocking U.S. Investments into China
Posted on 09/28/2019
---
UPDATE: "The administration is not contemplating blocking Chinese companies from listing shares on U.S. stock exchanges at this time," U.S. Treasury spokeswoman Monica Crowley said in an emailed statement on September 28, 2019 (Saturday).
Various business news outlets including CNBC and Bloomberg have reported the White House is contemplating potential curbs on U.S. investments into mainland China. Part of the preliminary talks have been including blocking all U.S. financial investments into Chinese companies. Some proponents contend that the restriction of investments into Chinese companies would be used to protect U.S. investors from the asymmetrical regulatory policies of China. These measures would include delisting Chinese listed companies from U.S. stock exchanges and preventing U.S. government pension funds from investing into mainland China. Many U.S. pensions, endowments, sovereign funds, and insurance companies have exposure to mainland China in wide range of securities.
From an institutional investor point of view, if these actions were enacted, it would impact equity portfolios and passive equity investments, as China has gain greater allocations from index portfolios.