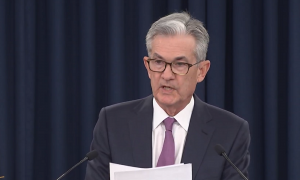 Federal Reserve Chairman Powell Telegraphs Balance Sheet to Expand
Posted on 10/08/2019
---
U.S. Federal Reserve Chairman Jerome "Jay" Powell revealed the central bank is carefully considering Treasury bill purchases. This is not a formal return to quantitative easing (QE) policy, but could be viewed as a half-step measure in that direction. Powell reiterated the Federal Reserve will "act as appropriate to support continued growth." Powell was speaking at an economics conference in Denver.
The Federal Reserve could once again be expanding its portfolio of government-backed securities and the possibility of another interest rate cut in October. This expansion of the Federal Reserve's balance sheet is a departure from quantitative tightening policies. The Bank of Japan and European Central Bank have been conducting QE measures and planned to do more in 2020.
The Federal Reserve is poised to reveal to add to the supply of reserves over time. For months, the Federal Reserve telegraphed it will eventually need to expand its government bond holdings again to maintain an ample supply of banking reserves – essentially currency deposits at the central bank.
Keywords: Federal Reserve System.