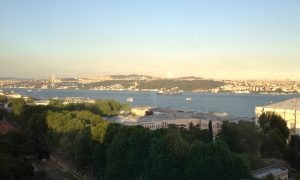 U.S. Prosecutors Levy Charges Against Halkbank over Evading Iran Sanctions
Posted on 10/15/2019
---
Halk Bankası, or Halkbank, is a large Turkish state-owned bank. The bank is owned by the Turkey Wealth Fund. On October 15, 2019, U.S. prosecutors charged Halkbank with taking part in a multibillion-dollar scheme to evade U.S. sanctions against Iran. These evasion of U.S. sanction charges mimic those against Halkbank former executive Mehmet Hakan Atilla. Mehmet Hakan Atilla was found guilty in Manhattan federal court in 2018 and was sentenced to prison after a trial.
Geopolitics
The U.S. government signaled a military exit in parts of Northern Syria, while the Turkish military mounted an offensive, dubbed Operation Peace Spring, against Kurdish militia groups including the PKK (Kurdistan Workers' Party) in select areas. Historically, both the U.S. and Turkey have designated the PKK a terrorist organization.
Turkey is a member of NATO and an estimated 50 nuclear bombs are stored at a U.S. airbase, İncirlik airbase, in Turkey. U.S. President Donald Trump is facing pressure from some Republican party members (neoconservative wing) and Democrats on his pullout in parts of Northern Syria. On October 14, 2019, the European Union declared an arms embargo on Turkey. There is also a bipartisan bill in U.S. Congress that would sanction Turkish leaders and cut off U.S. weapons and other supplies.