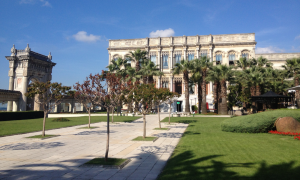 U.S. VP Mike Pence Announces U.S. and Turkey Agree to Ceasefire
Posted on 10/17/2019
---
U.S. Vice President met with government officials in Ankara to discuss the military conflict in Syria. Turkish President Recep Tayyip Erdogan received Pence in Ankara at the Presidential Complex.
Prior to the press conference, U.S. President Donald Trump tweeted "Great news out of Turkey. News Conference shortly with @VP and @SecPompeo. Thank you to @RTErdogan. Millions of lives will be saved!"
Pence says once a permanent ceasefire is in effect, the U.S. plans to remove the sanctions that were imposed on certain Turkish entities and government officials.
More details to follow.