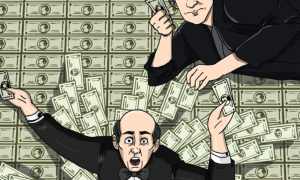 Why Uncertainty Breeds Cash Hoarding
Posted on 10/22/2019
---
U.S. Treasury bills and cash are in demand at major financial institutions, as the U.S. Federal Reserve slams into easing mode once again. After planning to lighten its balance sheet, the Federal Reserve is back to putting US$ 60 billion back into bond purchases because overnight lending rates began to spook banks. Experts consider this a reversal from the unwind the Fed had planned, and an admission that the Fed is determined to uphold the stock market's lofty heights at any cost. The Fed notes that the easing is in the short term market, and is not intended to reduce long term borrowing rates. However, the fact that the Fed anticipates a lack of liquidity in the system is more worrying.
Allocation Shift
This comes amid questions in the broader economy. Investors yanked US$ 60 billion out of stock funds in third quarter of 2019. This is the most money to leave stock funds since 2009. Only one year ago, stock funds were seeing inflows of US$ 20 billion over the same timeframe. Investors who took their money largely held cash or purchased bonds. Worries that the economy is in the late stage of a business cycle are ubiquitous, even as the S&P 500 hovers just under its all time highs. Consumers are also curtailing their spending. Retail sales were down 300 basis points between August and September of 2019. The holiday numbers for 2019 will be closely watched.
A number of Gulf sovereign funds and investors have already taken some mandates off the table, recycling that capital into lower-risk mandates. Asian sovereign wealth funds are also worried about the pending end of this economic cycle. According to obtained documents from the Federal Reserve, Fed Chairman Jerome Powell met with Lim Chow Kiat, CEO of Singapore's GIC Private Limited, at 3:30 PM on August 27, 2019. However, by their capital allocation actions in large illiquid investments, some larger sovereign wealth funds are acting as if the global economic situation now seems less dire. For example, GIC's sizable investment in Red de Carreteras de Occidente and ADIA's investment in Nestle Skin Health.
The economy is not looking bright for several high-profile companies, such as Goldman Sachs. Goldman reported a 26% drop in profits from a year ago. Wells Fargo also took a drubbing, with 23% lower profits. JPMorgan Chase was the sector leader, reporting higher quarterly profits for the seventh consecutive time. The inexpensive takeover of the former Washington Mutual gave JPMorgan an extensive branch of consumer banking operations that spans the west coast, where JPMorgan had no presence before. Goldman Sachs received no such deal, and is forced to slowly and methodically build its consumer businesses. The slow pace of this is the given reason for the unimpressive performance. Not all is well for JPMorgan. It is going to be disappointed with the backpedal of the planned Saudi Aramco IPO. Saudi Aramco is Saudi Arabia's state-owned oil company. Profits from the now-delayed IPO are intended to assist the Public Investment Fund's gargantuan building works along the Red Sea coast.
Goldman Sachs also suffered a loss of reputation in 2019, when Abu Dhabi's Mubadala Investment Company said that they would not be working with them any longer. Mubadala followed up their statement with a lawsuit. The U.S. Federal Reserve also punished Goldman Sachs employees for their role in the 1MDB scandal. IPO underwriting and investing activities were lackluster for Goldman in 2019. The disaster of WeWork's planned IPO is one example. Goldman Sachs is supporting its share price now that it is starting up its repurchase plan which had been halted pending lawsuit results. It is likely to pay a fee to settle the 1MDB matter.
Keywords: Federal Reserve System, The WeWork Company, The We Company, JPMorgan Chase & Co.