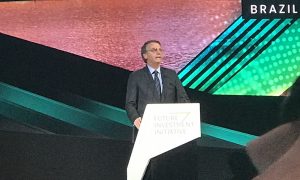 Brazil President Bolsonaro Pitches Brazil, PIF Agrees to $10 Billion Joint Fund
Posted on 10/30/2019
---
Saudi Arabia's Public Investment Fund (PIF) revealed plans to invest US$ 10 billion in Brazil. The PIF seeks to have Brazil perform as a gateway country to the rest of Latin America. Brazilian President Jair Bolsonaro and Saudi Crown Prince Mohammed Bin Salman, and Brazilian Foreign Affairs Minister Ernesto Araujo, met in Riyadh to discuss such mega plans.
The US$ 10 billion joint investment platform into Brazil will be managed by a committee composed of both PIF and Brazilian government officials. This committee council will determine the appropriate sectors for investments, as well as the timing for specific investments.
The Saudi government expressed some interest in the development of a 600-mile railroad from the agricultural heartland Mato Grosso to Para in the far north of Brazil. This railway has a price tag estimated at roughly US$ 3 billion.
Before the Future Investment Initiative (FII) event in Riyadh, Brazilian government officials met with Mubadala Investment Company officials. Mubadala has active investments in Brazil. Mubadala expressed interest in planned privatizations in Brazil.