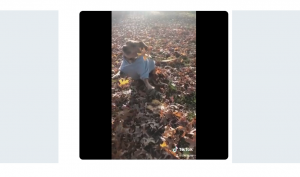 U.S. National Security Apparatus to Probe TikTok
Posted on 11/09/2019
---
The video sharing app known as TikTok has been flagged by the U.S. government as a potential national security threat. TikTok' owner is Beijing's ByteDance Ltd. ByteDance has over a dozen apps, and paid US$ 1 billion to acquire TikTok's earlier version, Musical.ly. It later merged with TikTok to create the app that now has a billion videos streamed per day. TikTok is a popular rival app competing against Facebook's Instagram stories and Snapchat.
Concerns about TikTok are centered around political content. TikTok might be censoring anything that doesn't fit China's preferred narratives. The Committee on Foreign Investment in the United States (CFIUS) is responsible for overseeing deals by foreign companies that might have national security implications. The Musical.ly deal was done without CFIUS approval. This was an oversight that could cost ByteDance, and by extension, its investors. One of ByteDance's major investors is Masayoshi Son's Softbank Group Corporation, another is multi-asset conglomerate Kohlberg Kravis Roberts and Co. (KKR). CFIUS reviews are held behind closed doors, so the next word from this will be the penalty imposed. TikTok's public relations statement promised that the company would work with U.S. Congress. That might not be pleasant for TikTok if history is any guide.
TikTok was fined by the Federal Trade Commission (FTC) in February 2019 for collecting data on minors under the age of 13. TikTok was stockpiling names, pictures, locations, and other information on the children. The fine of US$ 5.7 million was for what the FTC identified as "disturbing practices." The U.S. Children's Online Privacy Protection Act was invoked after parents complained that their children had shared too much information and it was publicly available. TikTok paid to settle the matter. TikTok also identified the school that the children attended, and adults who were unknown to the children were contacting them based on TikTok's information.
Like Big Tech companies such as Google (parent is Alphabet), Facebook, and Amazon, TikTok and ByteDance are now on the receiving end of the wrath of some of the most powerful politicians in the U.S. One is rising, the other is well established. U.S. Senate Minority Leader Chuck Schumer and Senator Tom Cotton are critics of TikTok. Schumer has been in a political office since 1975 and has become a visible force for the Democratic party. He has worked on everything from internet safety to the Iran nuclear negotiation. Tom Cotton has speedily risen through the ranks of the Republican Party after graduating from Harvard Law School. He was a Captain in the U.S. Army, and his foreign policy views are sought out by high-profile political media outlets such as Face the Nation. The bipartisan duo thought that China might be censoring data that it did not want U.S. users to see. Schumer and Cotton wrote a statement urging action: "With over 110 million downloads in the U.S. alone, TikTok is a potential counterintelligence threat we cannot ignore." Marco Rubio, former Republican Presidential contender, questioned why the Hong Kong protests were not covered on TikTok. Rubio requested a CFIUS review.
On September 30, 2019, ByteDance reported over US$ 7 billion in revenue on the back of its social sharing apps. ByteDance's apps, worldwide, have 1.5 billion monthly active users and 700 million daily active users. The value of the company is US$ 78 billion, although the outcome of the probe could change that. CFIUS has had recent successes. It prevented China's Ant Financial from buying MoneyGram International over sensitive data reservations. CFIUS also forced Oceanwide Holdings and Genworth Financial to use a broker to prevent U.S. data from reaching China.