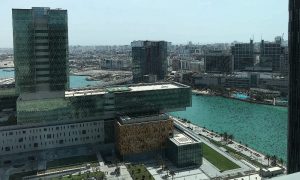 Foreign Oil Majors Take Stake in New Crude Futures Exchange in Abu Dhabi
Posted on 11/11/2019
---
Intercontinental Exchange, Inc. (ICE), an operator of global exchanges and clearing houses and provider of data and listings services, revealed that Abu Dhabi National Oil Company (ADNOC) and nine of the world's largest energy traders are partnering with ICE on the launch of ICE Futures Abu Dhabi. ICE Futures Abu Dhabi is a new exchange in Abu Dhabi Global Market (ADGM) that will host the world's first Murban crude oil futures contracts. ICE will be a majority shareholder in the Abu Dhabi futures exchange.
Murban could become a new global crude benchmark. Murban Crude is a light sweet crude produced by ADNOC. ADNOC produces roughly three million barrels of oil per day, of which approximately 1.7 million barrels per day is Murban crude. ICE Murban Futures will be a physically delivered contract with delivery at Fujairah in the United Arab Emirates on a free on board (FOB) basis. While oil producers across the Persian Gulf pump out nearly 20% of the world's oil, there has never been a reported, exchange-traded crude benchmark for the region. Abu Dhabi holds most of the oil in the United Arab Emirates.
The nine companies supporting the launch of ICE Futures Abu Dhabi:
BP
GS Caltex Corporation (South Korea)
INPEX Corporation
JXTG Holdings Inc. (Japan)
PetroChina Company Limited
PTT Pcl (Thailand)
Royal Dutch Shell
Total SA (France)
Vitol Group
A benchmark crude or marker crude is a crude oil that serves as a reference price for buyers and sellers of crude oil. There are three primary benchmarks, West Texas Intermediate (WTI), Brent Blend, and Dubai Crude. In 2007, Oman and the neighboring emirates of Dubai joined with CME Group Inc. to create the Dubai Mercantile Exchange to trade Omani crude futures. The DME Oman Crude Oil Futures Contract has struggled against rivals such as Brent and WTI due to lower volume of traded contracts since its creation.