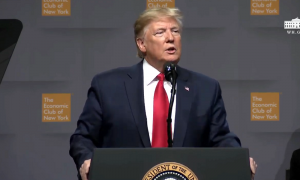 President Trump Highlights Economic Achievements at Economic Club of New York
Posted on 11/12/2019
---
U.S. President Trump delivered remarks at the prestigious Economic Club of New York. Trump took jabs at the Federal Reserve as for them not being competitive enough against the other monetary systems, even though he cautioned the world adoption of negative interest rates. Trump stated that since his election victory, the S&P 500 is up over 45%, the Dow Jones Industrial Average is up over 50%, and the Nasdaq is up 60%. Trump double-downed and said the numbers could be higher if the Federal Reserve wasn't so hesitant on lowering rates.
Trump highlighted his tax cuts and regulation changes as long-lasting contributions for U.S. consumers. Trump also highlighted his goal of realigning trade agreements.
According to the written speech, "We have ended the war on American Workers, we have stopped the assault on American Industry, and we have launched an economic BOOM the likes of which we have never seen before!"
More of the remarks include, "Before I took office, the Congressional Budget Office projected that fewer than 2 million jobs would be created by this time in 2019. Instead, my administration has created nearly 7 million new jobs. We beat predictions more than THREE TIMES over."
Trump mentioned that America is the number 1 producer of oil and gas and net energy imports set a historical low. He added that 60,000 factories were lost under the previous 2 administrations (Barrack Obama and George Bush). Near the end of his speech, Trump commented that as long as he is in office, the U.S. will never be a socialist country.