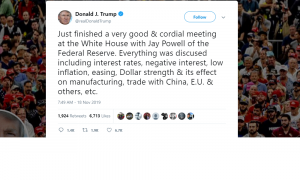 U.S. President Trump met with Fed Chair Jay Powell and Treasury Sec Mnuchin
Posted on 11/18/2019
---
Federal Reserve Chairman Jay Powell met with U.S. President Donald Trump and U.S. Secretary of Treasury Steven Mnuchin at the White House on November 18, 2019.
President Trump tweeted on November 18, 2019, "Just finished a very good & cordial meeting at the White House with Jay Powell of the Federal Reserve. Everything was discused including interest rates, negative interest, low inflation, easing, Dollar strength & its effect on manufacturing, trade with China, E.U. & others, etc."
Keywords: Federal Reserve System.