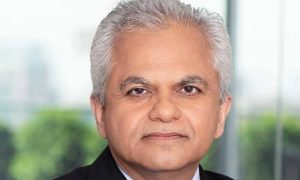 Incoming Nuveen Chairman Wants to Help Portfolio Managers Make Smarter Better Decisions
Posted on 11/22/2019
---
According to the newly designated executive chairman of global asset manager Nuveen, Vijay Advani, his firm will be ramping up its Asian strategy, its technology prowess, and its sustainable investment commitments. Presently CEO of Nuveen, the investment manager of the Teachers Insurance and Annuity Association of America (TIAA), Advani will take on the augmented role of executive chairman in January 2020. His firm has more than US$ 1 trillion in assets under management as of September 30, 2019 and operations in 24 countries granting it a prominent and influential leadership position in the industry.
Enhanced Focus in Asia
The enhanced position Advani will take up he says will allow him to focus on three key growth areas: impact and ESG investing; growing Nuveen's business and investment capabilities outside the U.S., and the further development of its fintech arm, Nuveen Labs. Advani told SWFI on his recent visit to Singapore that his push to streamline the asset manager which entailed centralizing operations such as cybersecurity, risk distribution, and compliance was now paying dividends. As a consequence of the rationalization Advani has been able to apportion more time to focus on international expansion.
On expanding their reach throughout Asia the Nuveen CEO claims that his firm has been growing its footprint by partnering and offering solutions to clients instead of merely tendering products. Having lived in Singapore earlier in his career Advani knows Asia is not a standardized region and has fine-tuned the firms offering for the continent.
"Rather than be a product-focused organization, we can say, let's sit down, see what your concerns are, see what your needs are, what are your liabilities and then offer you a solution rather than a product," he says.
Parallels to Sustainable Investing
On the rapid growth of sustainable investing Advani said he saw parallels with the 1980s in the United States where the average household was advised to have at least 5% of their assets in global equities. That is now a normal approach but the figure these days is closer to 40%.
"It's the same thing, responsible investing is at that cusp, initially it may be people are dabbling in it, but the momentum has already picked up," says Advani.
The current impetus though might not be plain sailing Advani believes especially when it comes to agreeing on industry benchmarks and regulations for the new green and sustainable investment solutions.
"I believe that we will be taking two steps forward, one step back. Again, I go back to the 1980s, when people said let's invest in emerging markets, the regulations were not there, liquidity was not there and so people burnt their fingers, but as I said this is here to stay," he adds.
RFPs and Mandates
In RFPs for mandates his firm receives, about 50% of these now demand clarity of the investment process in responsible investing and governance. It is far more thoughtful frank, open, and transparent. Five years ago this figure was no more than 5% to 7% according to Advani. He says he understands the concern of millennials in that they want to invest with a purpose. "These are not only individuals who'll inherit a lot of money from baby boomers, but are also employees of large organizations and they're asking their own management what's the purpose of this organization? What are you doing on sustainability, recycling, and so on."
In Asia the largest institutions and sovereigns are also using sustainability parameters more in manager selection Advani confirmed.
"Whether it's hunger, whether it's climate change, whether it is inclusive finance for women and villages to be self-sufficient, whether it's affordable housing, these are things that Nuveen has a competitive edge in because we have invested sustainably for five decades," he adds.
And while the U.S. and U.K., because of lack of knowledge and information, may have taken 100 years to turn, he expects Asia to be a key and quick adopter in the move to sustainable investing.
Financial Technology
Speaking enthusiastically about his firm's fintech initiative Nuveen Labs, Advani says the traditional tools used by portfolio managers while not obsolete, need to become smarter, better, and faster. Nuveen Labs, founded in June 2019, comprises an independent team to provide innovative ways to enhance and grow the asset management business through the application of artificial intelligence, machine learning, analytics, and big data. The Lab is intended to assist in generating alpha for global investment teams and create enduring value in responsible investing by developing data measurement standards and metrics for impact investments.
"We've set up the lab in San Francisco to partner with universities and startups to really see all the millions and millions of data sources that are relevant to the asset management world, because there's such a lot of data out there," says Advani.
"So whether it is satellite imagery, the tone of the CFO and the CEO in the quarterly earnings recording, whether there's data from satellite images of crops or drought or the number of cars in parking lots, we will be able to provide a framework with guard rails so that our portfolio managers can make smarter, better decisions."