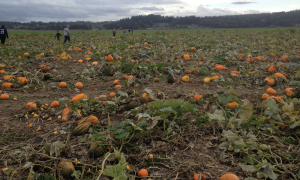 Food Theme Becomes a Major Investment Theme for Temasek Holdings
Posted on 11/26/2019
---
Singapore state-owned investment company Temasek Holdings has partnered with PwC, and agricultural-focused bank Rabobank to publish "The Asia Food Challenge Report: Harvesting the Future".
The report investigates Asia's food and agricultural environment and was launched in conjunction with this year's Asia-Pacific Agri-Food Innovation conference in Singapore. By 2030, Asia's population is estimated to be 250 million larger, and 65% of the world's middle-class population will be living in the region. While Asia's spend on food is expected to increase by around 7% per year over the next decade, its food industry is struggling to keep up.
Food Security
Climate change and environmental degradation continue to impact yields and farm output. While expanding populations and massive urbanization see high wastage and poor food quality as supply chains are stretched. Investing in food and agriculture is of significance for the Singapore wealth fund with the long-term security and innovation of sources of water, food, and energy a strong investment theme.
The wide-ranging report estimates that cumulative investment of US$ 800 billion above existing levels over the next decade will be required to grow Asia's food and agriculture industry to a sustainable size, in order for Asia to feed itself.
The majority of these investments, around US$ 550 billion, will enable key requirements around sustainability, safety, health and convenience. The remaining US$ 250 billion will drive increased quantities of food to feed Asia's growing population.
Speaking at the Asia-Pacific Agri-Food Innovation conference Anuj Maheshwari, Managing Director, Agribusiness, at Temasek, said, "A fundamental change is required across the entire food supply chain in Asia to enable and sustain the region's food security. We see immense opportunities for start-ups, businesses and governments to work together in creating innovative solutions that can transform our global food systems."
"Sustainability is a key focus for us at Temasek, and we remain committed to deploying our capital purposefully across the whole Agri-Food value chain, as we invest for a better, smarter and more sustainable world," Maheshwari added.
In another a speech on the topic Lim Boon Heng current chairman of Temasek Holdings, said the state investment firm saw this as an opportunity to put its substantial capital to good use. He pointed out that to date in Asia, there have been insufficient investments targeted at introducing new and disruptive technologies across the Agri-Food ecosystem. Lim also highlighted that the food and agri industry in Asia is highly complex, large and fragmented. The region is complicated by the diversity of countries and languages, stages of economic development, differences in regulatory systems, and cultural and dietary preferences.