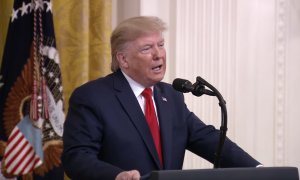 US President Trump Signs Hong Kong Human Rights and Democracy Act of 2019
Posted on 11/27/2019
---
In spite of objections from the ruling Communist Party in China, U.S. President Donald Trump on November 27, 2019 signed into law the Hong Kong Human Rights and Democracy Act.
"Today, I have signed into law S. 1838, the 'Hong Kong Human Rights and Democracy Act of 2019,'" President Trump said in a statement released by the White House.
"I signed these bills out of respect for President Xi, China, and the people of Hong Kong. They are being enacted in the hope that Leaders and Representatives of China and Hong Kong will be able to amicably settle their differences leading to long term peace and prosperity for all," President Trump said in a statement.
The 2019 Hong Kong Human Rights and Democracy Act was introduced during the 116th Congress. House bill (H.R.3289) was sponsored by Jim McGovern (D-MA) and Chris Smith (R-NJ).
The law, among other things, would require the require the U.S. government to impose sanctions against Chinese and Hong Kong officials responsible for human rights abuses in Hong Kong. The law would also require the United States Department of State and other agencies to conduct an annual review to determine whether changes in Hong Kong's political status – its relationship with mainland China- justify changing the unique, favorable trade relations between the United States and Hong Kong. The act received received near-unanimous support in Congress.
The United States remains mired in a trade war with China. The 2019 Hong Kong protests, also known as the Anti-Extradition Law Amendment Bill movement, are an ongoing series of demonstrations in Hong Kong triggered by the introduction of the Fugitive Offenders amendment bill by the Hong Kong government.