La Financière de l'Echiquier publishes a first impact report
Posted on 11/30/2019
---
This article is sponsored by La Financière de l'Echiquier.
The European positive impact strategy of LFDE published its first impact report.
La Financière de l'Echiquier (LFDE) was one of the first management companies in France to launch an investment solution in response to the United Nations Sustainable Development Goals (SDG).
This first report, prepared with the help of consultant Impact Leap, reflects LFDE's determination to measure in a practical and completely transparent manner the direct impact of its investment strategy inspired by the SDGs, whose aim – as its name implies – is to generate a positive impact through its investments by directing capital to companies making a meaningful contribution to the SDGs, and to be able to demonstrate it.
Per million euros invested in Echiquier Positive Impact Europe, whose assets under management today stand at close to 130 million euros*, the products and services offered by the companies** in the portfolio have resulted in: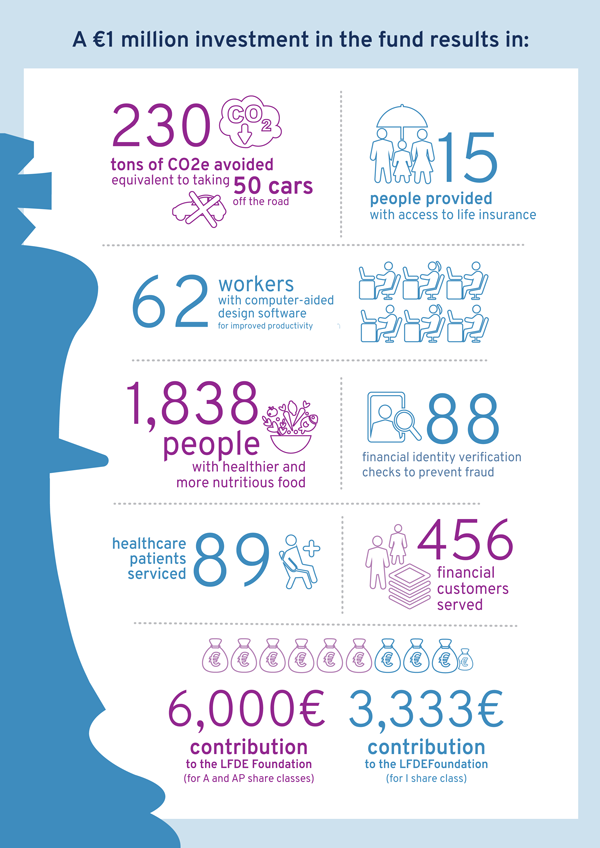 "Measuring the effectiveness of our investment strategy and assessing the results obtained is characteristic of the LFDE spirit. Producing accurate reporting is essential to both investors and our partners," said Sonia Fasolo, manager of Echiquier Positive Impact Europe.
"We are proud of this first impact report. It symbolises our SRI aims, which contribute to a major objective: to create the best possible ecosystem for all our partners," said Olivier de Berranger, Deputy-Chief Executive Officer and CIO of LFDE.
VIEW REPORT
*25/11/2019
**All data in the report are as of 31.12.2018
Disclaimer
By clicking on the link to view the report, you acknowledge you are an institutional investor or other accredited investor.