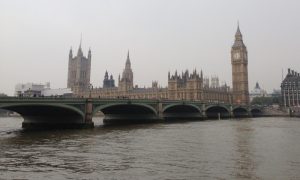 Global Warming Bell-Ringer BoE Governor Carney Named UN Special Envoy for Climate Action and Finance
Posted on 12/02/2019
---
The Western European central banks have embraced the notion that central banks should play a role in trying to alleviate the impacts of climate change.
United Nations Secretary-General António Guterres announced the appointment as Bank of England Governor Mark Carney to be the United Nations Special Envoy for Climate Action and Finance. According to the press release, "The Governor will support the Secretary-General's climate strategy by galvanising climate action and transforming climate finance for the 26th Conference of the Parties (COP) meeting in Glasgow in November 2020. A key focus will be on shifting the financial system towards mobilising private finance to the levels needed to achieve the 1.5°C goal of the Paris Agreement. This will include building the frameworks for financial reporting, risk management and returns to bring the impacts of climate change to the mainstream of private financial decision making and to support the transition to a net zero carbon economy."
The Bank of England calculated that up to £16 trillion worth of assets could be "wiped out" if the climate emergency is not effectively handled.
In October 2019, Mark Carney made comments to the Guardian newspaper to reporter Damian Carrington, saying that "Companies and industries that are not moving towards zero-carbon emissions will be punished by investors and go bankrupt."