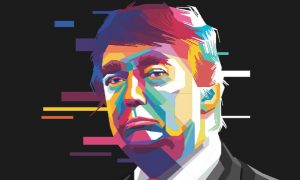 U.S. President Trump's New Space Force Could be a Catalyst for Institutional Investor Capital
Posted on 12/15/2019
---
U.S President Donald Trump's dream of creating the United States Space Force has become a reality as the 2020 National Defense Authorization Act (NDAA) passed (377 to 48) in the Democrat-controlled House of Representatives that will give the branch funding. This is the newest service branch in more than 60 years. The U.S. Air Force was created on September 18, 1947 being spun out from the Department of the Army (formerly the United States Department of War).
Trump's idea for the Space Force was to ensure the United States remain dominant in outer space as Russia, China, and other countries make advancements. On January 2, 2019, China became the first country to land a spacecraft, Chang'e 4, on the "dark side" of the Moon. In 2019, the French government revealed plans to create its own space force. The U.S., Russia, and China are developing technologies that can be used as space weapons.
The Pentagon redesignated the U.S. Air Force's Space Command, spinning it off from the Air Force, into a separate service. Space Force will be spearheaded by a Chief of Space Operations. The current NDAA bill that was passed in the U.S. House gives the Space Force headquarters to Colorado Springs, Colorado. Politicians have been trying to fight for a headquarters for the Space Force. A U.S. Senator from Alabama is pushing for Huntsville, Alabama. Texas and Florida are also contenders. Currently U.S. Space Command operates out of Peterson Air Force Base in Colorado. In August 2019, Trump relaunched U.S. Space Command, a pre-cursor to the Space Force. The first run at U.S. Space Command was closed down in 2002 by the George W. Bush Administration. All the duties for U.S. Space Command are being shifted to the Space Force, and this includes personnel for the new branch. Congress gave Trump billions to spend over the next 5 years to get Space Force in the air.
Institutional Investors
The U.S. defense industry played a significant role in shaping early Silicon Valley. The same idea can be applied to a major U.S. effort to invest in space-related technologies and the industries running parallel to it. Global institutional investors are watching this space evolve, as government capital can act as a major catalyst to spur industry. Furthermore, a surge of domestic engineering talent may opt to work in this growing sector from past pursuits of Wall Street financial engineering.
More risk-averse institutional players compared to venture capitalists, such as sovereign funds and pensions, are seeking to allocate capital in well-defined spots in the space industry. In the past decade, the space sector has been backed by smaller venture companies, corporate venture capital, or government-linked investors like CIA's venture unit In-Q-Tel. However, Public institutional investor capital has backed telecommunication ventures such as space tourism, satellites, satellite companies, geolocation technologies, and launch companies like Elon Musk's Space Exploration Technologies Corporation (SpaceX). For example, in 2019, the Ontario Teachers' Pension Plan, through it Teachers' Innovation Platform, made a sizable investment in SpaceX. Other business opportunities in space include combating space debris, in-space manufacturing, and, yes, asteroid mining. Wall Street Banks like Morgan Stanley are paying close attention to these developments and host events to inform investors on developments in the outer space sector.