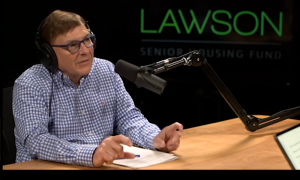 Senior Housing- A Socially Responsible and Recession Proof Investment
Posted on 12/20/2019
---
This content is by Lawson Senior Housing Fund, LLC.
The Senior Housing sector addresses a clear social need while delivering exceptional financial returns. An investment in Senior Housing is an investment in the local community. Senior Housing strengthens communities by allowing our aging population to retire and live in the same neighborhoods where they have always lived, worked, and socialized.
Our aging population drive demand for senior housing facilities. 76 million Baby Boomers were born in the U.S. between 1946-1964, and 10,000 Baby Boomers reach age 65 each day. This has resulted in a significant senior housing supply shortage given the unprecedented amount of Baby Boomers retiring every year. In 15 years, for the first time in U.S. history the number of people over age 65 will be larger than the number of children. This demographic shift, known as "The Silver Tsunami" means Senior Housing demand is projected to significantly outpace supply with the most significant population growth between 2021 and 2033.
Senior housing has outperformed the real estate sector for the past 10 years due to its unique market fundamentals. Senior Housing has proven to be a recession resistant asset class and is projected to continue to outperform other real estate categories given the strong underlying demographics supporting demand growth. The addition of senior housing assets to an investment portfolio will increase diversification, lower risk, and provide superior returns, while positively impacting the quality of life of the residents who live in our communities.
Lawson Senior Housing Fund (LSHF) is an investment opportunity formed for the purpose of developing senior housing projects, particularly Assisted Living (AL) and Memory Care (MC) facilities. LSHF's mission is to create high quality projects that positively impact and strengthens communities by providing seniors with a home near their families and friends while delivering exceptional financial returns.
LSHF's business model offers a major differentiator unique to the senior housing sector. Each LSHF senior living community establishes an affinity relationship with a community impacting Church located nearby our projects. The Affinity Church provides ministry outreach through services and programs to our residents, thereby cultivating physical, emotional and spiritual connection to our senior population.
LSHF projects are located in markets where significant unmet demand is well-evidenced through exhaustive analysis and rigorous evaluation of the Primary Market Area (PMA). The projects are based on a building prototype in which development, construction, operation, and management costs can be tightly controlled and replicated in each project. LSHF's business platform currently includes more than twenty (20) project sites meeting our performance benchmarks. The first four projects in our pipeline represent premiere locations for the development and operation of our private pay monthly rental senior housing communities.
Unlike other real estate asset classes, investing in senior housing requires the combination of both commercial real estate and health care management experience. LSHF's extensive knowledge of the sector, working relationship with the nation's most prolific Operators/Managers, and banking/financial expertise provides a single resource to execute a project more quickly and successfully than anyone in the sector; and, our strict cost and operational controls produce projects which maximize investment capital and generate exceptional investment returns while providing a socially responsible investment opportunity for our Investors.