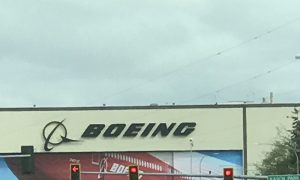 After a Series of Missteps, Boeing's Board Fires CEO
Posted on 12/24/2019
---
Days before Christmas, the board of Boeing fired the company's CEO Dennis Muilenburg. Muilenburg walks away with a severance package of US$ 39 million in cash and stock. The Chairman of Boeing, David Calhoun, was named as the new CEO and will start on January 13, 2020. The board of directors at Boeing is attempting to appease investors, as Boeing has struggled with a series of preventable missteps. Calhoun was named Chairman of Boeing in October 2019, when the board agreed to separate the roles of CEO-chairman paradigm. Calhoun is a long-time Blackstone Group executive who also headed a General Electric division that included airplane engines after the 2001 September 11th terrorist attacks. Boeing is faced with a damaged reputation with customers, regulators, policymakers, and is in a cash squeeze from the crisis.
Boeing's decision to cancel production of its deadly MAX jets was the last straw for Russian state-owned aircraft leasing company VEB Leasing JSC (VEB). VEB's subsidiary Timaero Ireland Ltd. is suing to cancel 22 737 MAX jets, which twice drove themselves out of the sky against pilot's efforts and have been the subject of intense political backlash for Boeing. Timaero alleges that Boeing wasn't returning its advance payments for undelivered jets, which are now likely "worthless." This is especially clear as Boeing has halted production of the doomed plane. SWFI reported on the troubles at Boeing and the MAX jets on November 25, 2019.
Timaero, a company with its base in Dublin, is seeking US$ 185 million in damages, which could come out of the US$ 6.1 billion Boeing set aside to deal with MAX-related troubles. Only a portion of that amount is in cash. Without workable aircraft, Boeing is being held to account over its breach of contract. A Timaero statement said: "The 737 MAX aircraft contracted for between Boeing and Timaero are now either worthless or seriously diminished in value."
Although contracts tend to favor the manufacturer, Boeing has let Russian-state owned Avia Capital, another leasing business, off the hook for its orders, but it is not clear that this will be the strategy for future claims. Avia is under the umbrella of Rostec, a military-industrial company founded by Russia's longtime President Vladimir Putin. Rostec employs nearly half a million people over 700 companies, including Avia, and sees annual revenues of US$ 27 billion and profits of US$ 2 billion.
Early Warnings Ignored
In all, 400 new MAX jets are grounded with an uncertain future and unable to fly until the Federal Aviation Administration (FAA) gives the green light. Multiple media outlets have reported that the FAA knew the MAX was dangerous, but thought that the risk of a crash was "sufficiently low" to allow all 380 of them to operate as planned. Specifically, that means that 15 crashes were predicted over the lifetime of the MAX. FAA Chief Steve Dickson at one point admitted the work of his agency was "not satisfactory." He also defended the FAA's decision as "data driven." His official website lists him as "A strong advocate for commercial aviation safety."
Boeing whistleblowers have long been ignored by the airline and the government. Gerald Eastman, who calls himself "The Last Boeing Inspector," has been warning for years about a negligent safety culture at Boeing, which led to his departure. In addition to his calls for safety at Boeing, Eastman identified problems at the FAA as early as 2006. Eastman wrote that the FAA "allowed the corruption that I witnessed every day as an inspector at Boeing to exist." Thirteen years later, the FAA's whistleblowers are blaming senior management for sweeping their safety concerns under the rug.
There has been a more recent Boeing whistleblower, and that is Ed Pierson, who worked on the MAX and begged managers in writing to stop production due to multiple issues with the plane. In Pierson's words, "Those warnings were ignored." Pierson further stated: "If you have a tired mechanic or an electrician who is overworked or a technician that is stressed because they haven't had a chance to take care of their family because they've been working so many hours, it could all be for naught." Boeing has had trouble finding skilled labor to produce its planes, even going to the extent of seeking out retired workers and bringing them back to the production line. A live tuberculosis exposure from a sickened worker in late December 2019 at its Renton plant is not going to help Boeing's front-line morale. Several workers are being tested.
Boeing's Impact on Airline Companies
Boeing is America's number one exporter. Its economic woes will quickly spread to suppliers GE Aviation and Spirit Aerosystems. GE Aviation produces jet engines from its factory in Ohio. It had been suffering slowdowns due to problems with a new engine, specifically the compressor on its most advanced engine, the GE9X. GE struggled with it in 2018, and finally made a recall in 2019. Although it will suffer from the MAX fallout, GE will have some help from the U.S. military, which awarded it a US$ 1 billion contract to make T700 engines for all of the major branches. GE also announced plans to shift production to make more engines for the Airbus A320neo, MAX's direct competitor.
Next, the eyes of the world descended on Wichita, Kansas-based Spirit Aerosystems. Spirit spun out of Boeing, but is still heavily reliant on it. It makes fuselages, and is currently sitting on 90 of them that are not being delivered. Boeing does not have room, with grounded MAX jets taking over employee parking lots. The company is continuing to pay Spirit for now, but Spirit had invested heavily in its infrastructure, which may no longer be necessary. Spirit depends on Boeing for 75% of its revenue, but has attempted to diversify by buying Airbus-supplier ASCO Industries and three of Bombardier's manufacturing plants which also make plane parts for Airbus. The governor of Kansas is making plans to put Spirit workers on state support should it be necessary.
Major carriers such as American Airlines and Southwest have cancelled flights due to a lack of planes. Southwest has no plans to fly the MAX until April 2020. American Airlines also plans to bring the MAX back in April. The company is drafting up a plan for how to deal with customers who do not want to fly on the MAX, though they could be rerouted to another Boeing plane. United Airlines is more cautious, setting a June date for the return of the MAX. Airlines are likely to see costs rise as more flights are cancelled and uncooperative passengers make travel adjustments. United, for one, plans to cancel 75 flights per day in December 2019 and 56 per day in January 2020. The cost to airlines pales in comparison to the estimated half a percentage point that could be lost in GDP growth due to the overall ripple effect of Boeing's problems. Ratings companies have been slow to act, but Moody's downgraded Boeing's credit to A3.
Southwest, the largest operator of MAX jets, is considering moving away from Boeing planes entirely. CEO Gary Kelly issued a challenge for its European rival: "It would be incumbent upon Boeing's competitor, Airbus, to influence us." Switching over to an Airbus fleet would take Southwest five years, according to Kelly. The Southwest Airlines Pilots Association is pushing for the change. President Jon Weaks is furious with Boeing: "Boeing will never, and should not ever, be given the benefit of the doubt again. The combination of arrogance, ignorance, and greed should and will haunt Boeing for eternity."
U.S. President Trump is watching Boeing
As a major U.S. manufacturer, President Trump had hoped to see a successful Boeing create good jobs. Several instances have resulted in less than stellar follow through. Trump called then Boeing's CEO Dennis A. Muilenburg on December 8th, 2019 to discuss the work stoppage. Muilenburg agreed not to have any layoffs. Boeing's board had decided to halt production of the planes during the same weekend at the headquarters in Chicago.
Muilenburg and Trump have spoken together numerous times. They had previously struck a deal for Boeing to build Air Force One planes. Trump took to Twitter to reject the cost, US$ 4 billion. "Cancel Order!" the President exclaimed. Two unused jet bodies were given the nod to become the new Air Force One planes. Including hangar construction and other costs, the jets will set the government back more than US$ 5 billion. This is approximately what 3,500 Lockheed Martin air to surface missiles cost, but only 8% of the cost of Northrup Grummon's Space Launch program.
More recently, Muilenburg told Trump that the MAX was safe after the second plane crash in five months. That didn't stop the plane from being grounded. On March 12, 2019, Trump tweeted "Airplanes are becoming far too complex to fly. Pilots are no longer needed, but rather computer scientists from MIT. I see it all the time in many products, always seeking to go one unnecessary step further, when often old and simpler is far better." Trump later doubled down, "I don't want Albert Einstein to be my pilot. I want great flying professionals."
Airbus
Those who follow aviation may recall that Boeing began work on the MAX to take market share away from Airbus. Airbus is now the obvious beneficiary of Boeing's missteps, and is seeing strong demand. Airbus has more orders and deliveries than Boeing in 2019. This is the first year that has happened since 2011. Over 1,000 orders are expected before the year ends, a 20% increase over 2018. The main problem facing Airbus is not being able to produce planes fast enough to meet demand. They can only put out 63 per month, and new clients shouldn't expect to see an Airbus until late 2024, or even 2025. Airbus Chief Commercial Officer Christian Scherer says: "We're in a growth industry." Airbus is currently working on a regional electric hybrid plane.
Boeing's Starliner
Boeing's Starliner space ship will not make it to the International Space Station as planned. The US$ 90 million per seat craft couldn't find its course and the attempt turned into a salvage effort. At first, everything appeared to be promising after successfully detaching from the launch vehicle. Unfortunately, the Starliner could never put itself on the right course. It is suspected that something was amiss with the clock. NASA Administrator Jim Bridenstine shrugged it off: "This is, in fact, why we test." Since the Starliner didn't go on course as intended, it used too much fuel to continue the mission of spending one week in space.
Jim Chilton, Senior Vice President of the Space and Launch Division at Boeing, wanted to be extremely careful with the spacecraft: "Without knowing exactly what's going on, the team quite rightly said let me put the spacecraft in an orbit where I know I can control [it] and get [it] home." Chilton pointed out the importance of putting "Safety first." Nicole Mann, an astronaut scheduled to fly on the Boeing Starliner's said: "This vehicle has a new level of automation that we've never seen before." NASA offered Boeing US$ 4.2 billion to make the Starliner. In the past, NASA made its own ships. Bridenstine noted, "We're doing it in a way that's never been done before."