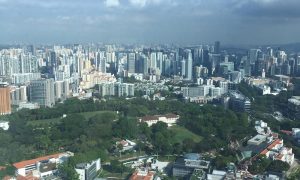 Pavilion Energy and Total Unit Signs 10-Year Agreement to Develop LNG Bunker Supply Chain in Singapore
Posted on 12/24/2019
---
Singapore wants to be a liquefied natural gas (LNG) trading hub for Asia, even though prices in Asia are down more than 40% compared to a year ago. LNG supply for the moment outweighs demand.
Singapore-based Pavilion Energy and Total Marine Fuels Global Solutions, a unit of France oil major Total SA, signed a 10-year agreement to develop a liquefied natural gas (LNG) bunker supply chain in the port of Singapore. In June 2018, the two parties signed an initial non-binding agreement.
Part of this current agreement, includes the long-term usage of the GTT Mark III LNG bunker vessel.
Pavilion Energy is owned by Singapore's Temasek Holdings. Some of the main natural gas retailers in Singapore include City Gas, SembCorp Gas, Pavilion Gas, and City-OG Gas Energy Services.