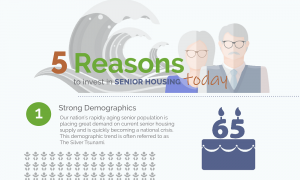 5 Reasons Why Institutional Investors are Looking at Senior Housing
Posted on 01/27/2020
---
This content is by Lawson Senior Housing Fund, LLC.
Institutional investors such as sovereign funds, pensions, endowments, and even family offices are looking for stable, income-generating real estate assets. Like student housing, quality senior housing is in high-demand.
Seventy-six million baby boomers were born between 1946 to 1964, and over the next 19 years 10,000 baby boomers will reach 65 each day. Yet, the bulk of senior housing communities were built 17 or more years ago. As the baby boomers head toward retirement, the silver tsunami is creating a serious need of new housing.
SENIOR HOUSING INFOGRAPHIC