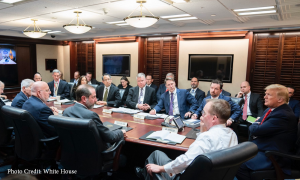 CDC Confirms First Human-to-Human Transmission of Coronavirus in the U.S.
Posted on 01/30/2020
---
The Centers for Disease Control and Prevention (CD) and Illinois public health officials confirmed the U.S. witnessed its first human-to-human transmission of the coronavirus.
The new patient is the husband of the Chicago woman who brought the infection back from Wuhan, China.
Wuhan is the epicenter of the outbreak.
"This is a very serious public health situation," said Dr. Nancy Messonnier, director of the National Center for Immunization and Respiratory Diseases. "Moving forward, we can expect to see more cases and more cases means more potential for person-to-person spread."
U.S. Senator Tom Cotton is the first senator to urge the U.S. government to all commercial air travel between China and U.S. The White House earlier signaled a possible travel ban from China via flights in a bid to prevent transmission of the disease into America.
Earlier today, Russia closed its entire 2,600 mile border with China in a bid to prevent transmission to its people.