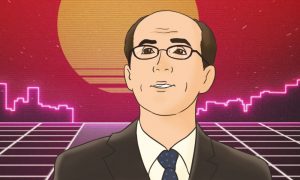 World's Largest Pension Fund Marches Toward $2 Trillion in Assets, While Embracing ESG
Posted on 02/15/2020
---
Government Pension Investment Fund Japan (GPIF) is the world's largest pension fund at US$ 1.6 trillion. It has reported Q3 2019 earnings. GPIF earned a profit of US$ 67 billion in Q3. GPIF's return on assets was 4.6% in the same period. The Nikkei climbed over 8% and The Dow Jones Industrial Average reached above 7% in the third quarter, helping to boost GPIF's numbers. GPIF managed to outperform the benchmarks, pulling in 8.6% from Japanese companies and 9.7% from foreign stocks. GPIF is no longer willing to disclose specific asset allocation details. GPIF President Norihiro Takahashi defended the secrecy, explaining that "Such disclosure may cause various speculations in the market. That is not good for the market as well as for us." GPIF is in the middle of a transition phase, and will be rebalancing its portfolio over the next several weeks.
Hiromichi Mizuno, Executive Managing Director and Chief Investment Officer (CIO) of GPIF, has made several changes during his tenure. His priorities have included ESG initiatives such as improved corporate governance, increased gender diversity, and building a climate change strategy. "To my thinking, ESG is one of the most effective tools for communicating our deep concerns about sustainability to our investment chain," Mizuno said. He has also studied the possible uses of AI and how it can help GPIF, saying: "I think it's natural to believe that AI will reshape how we do business." Mizuno is not trying to beat any particular index. Instead, he worries about the consequences of societal or even worldwide disappointments. He shared, "If the system fails, we also fail. That's the concept I believe everyone should be aware of, but I'm afraid that there are very few players in the industry who actually understand that."
Mizuno has implemented a new fee structure based on performance for the active managers GPIF works with. He is displeased that more of their work is not automated: "From the beginning, I've held the view that the asset management industry needs to adopt technology much faster than its current pace." With automation and AI expected to take on a larger role at GPIF, Mizuno wants to use human thought for something the machines can't do, and that is to make judgment calls for long term sustainability.
Keywords: Japan Government Pension Investment Fund, GPIF.