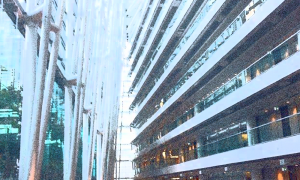 CDPQ Scoops Up More of Cirque du Soleil Entertainment Group
Posted on 02/23/2020
---
A Quebec pension fund is flying high with the purchase of another 10% of Cirque du Soleil Entertainment Group. Caisse de depot et placement du Quebec, which is worth US$ 340 billion, now owns 20% of the troupe. Cirque du Soleil's founder, Guy Laliberté, no longer maintains any interest in his creation: "I am happy that my share of Cirque du Soleil, which I founded 35 years ago, is going to Quebec interests. I will continue to be involved in the creative process." Cirque du Soleil plans include acquiring more shows and appearing more on television. Talks of an IPO are ongoing. San Francisco's TPG Capital, which was founded in Texas, owns the majority of Cirque du Soleil. It holds 55%. A private equity firm out of China, Fosun Capital Group, has another 25%.
Under Charles Emond, Caisse de depot et placement du Quebec is now going to unload a third of its shopping malls. It has 25 in Canada alone, in addition to other real estate holdings. None did well in 2019. Malls in particular are losing ground to online sellers. Return on depositor funds for 2019 came in at 10.4 %. Returns were boosted by rising equity markets. The S&P 500 returned over 30% in 2019. Emond seems especially concerned about future investment returns, and the move into the circus represents a true alternative investment. On February 20, 2020, Emond explained: "We expect the next decade to be more challenging than the past one, during which all investors benefited from the longest bull market in history. In the context of a growing gap between real economic performance and market performance, and multiple indicators prompting us to be cautious, it will be important for our strategy to continue evolving while we manage responsibly and with agility."
Guy Laliberté quit college, learned the art of fire breathing, and eventually co-founded a performance troupe with Gilles Ste-Croix.