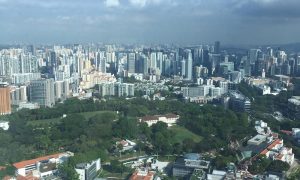 ARA Asset Management Grows Empire, Buys Majority Stake in LOGOS Group
Posted on 03/05/2020
---
Singapore-based ARA Asset Management Limited is an Asia-Pacific real assets fund manager with S$ 88 billion in gross assets under management as at December 31, 2019. ARA Asset Management, through its logistics arm ARA Logistics Partners Limited, acquired a majority ownership stake in LOGOS Group. ARA Logistics Partners is joining existing shareholders, LOGOS' founders and Ivanhoé Cambridge, which is a unit of Caisse de dépôt et placement du Québec (CDPQ).
LOGOS was formed in 2010 and operates across eight countries in the Asia-Pacific region. MIRA Real Estate, which is part of Macquarie, took a minority stake in LOGOS in the middle of 2014.
Details
Part of the ARA deal, LOGOS will become ARA's exclusive platform for logistics assets globally. As part of the deal, ARA has completed the transfer of its holdings in ARA Trust Management (Cache) Limited, the manager of Cache, and its unitholding in Cache Logistics Trust, a major Singapore logistics REIT with assets under management of approximately S$ 1.3 billion, to LOGOS. ARA will continue to retain control of Cache via its holding in LOGOS and will continue to grow Cache to enhance value for its unitholders. Cache will be rebranded in the coming months to align with ARA and LOGOS' growth plans.
ARA Asset Management Group CEO John Lim holds a 19.85% interest in ARA through his family business JL Investment Group. Warburg Pincus has a 30.72% stake in ARA, while the AVIC Trust has a 20.48% stake in ARA. Gek Khim Chew's Straits Trading Co Ltd owns a 20.95% stake in ARA. AVIC Trust is a trust company owned by the Aviation Industry Corporation of China.
Keywords: Caisse de depot et placement du Quebec.