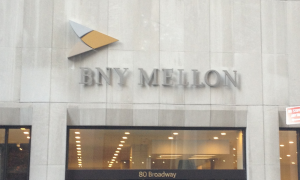 BNY Mellon Pushes out Zero-Cost Core Bond ETF and Plans for No-Cost US Large Cap ETF
Posted on 03/08/2020
---
BNY Mellon, through its unit BNY Mellon Investment Management, is creating its first ever no-fee U.S. fixed-income fund called the BNY Mellon Core Bond ETF. The asset manager is also planning the launch of a zero-cost ETF called the BNY Mellon US Large Cap Core Equity ETF. The removal of fees from a large asset manager on a new product offering no doubt generates publicity.
The BNY Mellon zero-fee ETFs are attempting to oust the JPMorgan BetaBuilders U.S. Equity ETF, which have an expense ratio of 0.02%.
Fidelity Investments had launched four core index mutual funds at no fee and has raised roughly US$ 6 billion between them.
Keywords: Bank of New York Mellon Corporation.