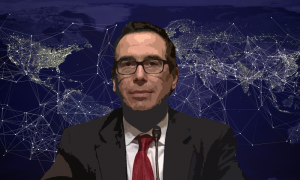 White House Pushes for $1 Trillion Stimulus Package, with $500 Billion in Checks for Citizens due to Coronavirus Impact
Posted on 03/18/2020
---
A number of measures are being taken by the U.S. Treasury. U.S. Treasury Secretary Steve Mnuchin announced the IRS will defer tax payment due dates and associated tax penalties for 90 days for individuals and small businesses.
Mnuchin warned in a worst case scenario that unemployment could go up to 20% in the U.S. if the country failed to act on a proposed coronavirus rescue package. U.S. President Trump added that the 20% would be the absolute worst-case scenario. As the coronavirus sweeps across America, the big three U.S. automakers – Ford, Fiat Chrysler, and General Motors – plan to close all U.S. auto factories. Delta Air Lines plans to cut its flying by an unprecedented 70%, on a year-over-year basis. In the world of services, the National Restaurant Association estimates that between 5 million to 7 million restaurant jobs will be lost over the next three months. New York-based Union Square Hospitality Group laid off about 2,000 workers citing a near complete elimination of revenue due to the pandemic. Some employees of Tillman Fertitta's Landry's, Inc. are being furloughed, with some being temporarily laid off, according to news sources. Landry's owns a number of restaurants including Bubba Gump Shrimp Company, McCormick & Schmick's, and Rainforest Cafe.
Mnuchin met with Republican senators who control a majority in the U.S. Senate.
Stage III Proposal
As the U.S. Senate analyzes the U.S. House-passed coronavirus bill (Families First Coronavirus Response Act (FFCRA)), policymakers are in negotiations on a third, even larger stimulus package to address the Wuhan coronovirus (COVID-19) pandemic.
In a memorandum, the Trump administration is planning a stimulus package which will include two rounds of direct payments to U.S. citizens totaling US$ 500 billion. The package would provide two rounds of direct payments of US$ 250 billion each on April 6 and May 18. The payments will be based on income level and family size. Some figures from Treasury officials include US$ 1,000 per person and US$ 500 per child.
In addition, the package would create a small business interruption loan program that could be around US$ 300 billion.
The package also includes US$ 50 billion in aid to the U.S. airlines industry and US$ 150 billion for other distressed sectors of the economy.
The proposed package does not mention a payroll tax holiday.