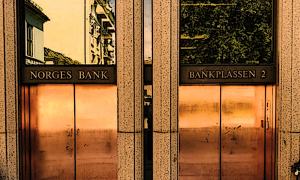 Norges Bank Investment Management Selects Nicolai Tangen as New CEO
Posted on 03/26/2020
---
Norges Bank's Executive Board has employed Nicolai Tangen as the new CEO of Norges Bank Investment Management (NBIM), the manager of Norway Government Pension Fund Global. Tangen will take up the position in early September 2020 according to plan.
"The Executive Board feels confident in Nicolai Tangen being the best candidate to manage the Government Pension Fund Global. Tangen has built up one of Europe's leading investment firms and has delivered very good financial results as an international investment manager. He has extensive experience with equity management, which is the fund's largest asset class", says Chair of the Executive Board Øystein Olsen in a press release.
Tangen replaces Yngve Slyngstad.
Nicolai Tangen is CEO and CIO of AKO Capital LLP, which he established in 2005. At the moment, the partnership has around 70 employees and manages the funds of universities, charitable foundations and family offices. AKO Capital is based in London, where Tangen has resided for the last 28 years. Nicolai Tangen was a partner at Egerton Capital from 1997 to 2002
Education and Relocating
Tangen has a Bachelor's degree in finance from Wharton School of Finance and Master's degrees in the History of Art from the Courtauld Institute of Art and in Social Psychology from the London School of Economics. He has also studied Russian at the Norwegian Armed Forces' School of Intelligence and Security. According to the press release, "Tangen will move to Norway, pay tax to Norway, and have Oslo as his place of work upon taking up the position in Norges Bank Investment Management."