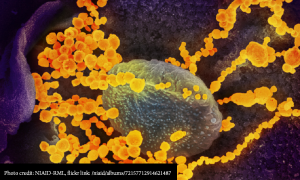 President Trump Signs $2 Trillion Care Package Stimulus to Combat Coronavirus Fallout
Posted on 03/27/2020
---
In an Oval Office ceremony, U.S. President Donald Trump signed a $2 trillion coronavirus relief bill, after the U.S. House of Representatives passed the bill with a bipartisan vote. The bill is called the Coronavirus Aid, Relief, and Economic Security (CARES) Act. The White House is trying to prevent long-term economic destruction caused by the economic impact of the Wuhan coronavirus pandemic. The relief plan includes one-time cash payments to individuals, strengthened unemployment insurance, additional health-care funding, and loans and grants to businesses to deter layoffs. The law provides a hundreds of billions to the U.S. Exchange Stabilization Fund. Republicans needed Democrat support for the bill's passage in the U.S. House of Representatives.
The 880-page coronavirus stimulus package is the largest economic relief bill in U.S. history for individuals, large corporations, and small businesses.
House Speaker Nancy Pelosi was able to sneak in a long-list of items including US$ 350 million for migration and refugee assistance, US$ 75 million for PBS and NPR, US$ 75 million for the National Endowment of Arts, US$ 75 million for the National Endowment of the Humanities, US$ 25 million for the Kennedy Center, among other items. Pelosi was not invited to the signing ceremony in The White House and believes that Congress must do more.
Direct Cash Payments
The bill provides for direct payments to U.S. citizens and legal immigrants, giving individuals who make up to US$ 75,000 a year checks for US$ 1,200, couples making up to US$ 150,000 payments of US$ 2,400, and an additional US$ 500 per child. The payments decrease for those making more than US$ 75,000, with an income cap of US$ 99,000 per individual or US$ 198,000 for couples.
At the same time of this fiscal policy response, the Federal Reserve and other agencies have acted aggressively to mitigate the economic impact of the coronavirus pandemic and have issued guidance and temporary relief covering a range of issues.